An event was held today, Friday 19 May, to introduce LaLiga Genuine, a league to be made up of teams entirely comprising players with intellectual disabilities (ID), which the LaLiga Foundation will be rolling out for the 2017/18 season. The league, which seeks to champion the idea of playing football among the wider ID community, exemplifies Spanish professional football's support for integration projects. The goal is for every LaLiga club to have its own Genuine side and for these to make a major social impact.
LaLiga president Javier Tebas – who was accompanied at the launch ceremony by Ruben and Alvaro, two of the architects behind this pioneering project – took the opportunity to highlight the importance of LaLiga Genuine: "When this project was pitched at LaLiga, I didn't take much convincing. It shows that Spanish football is genuinely socially responsible. We wanted to step up for people with intellectual disabilities. We're convinced that every LaLiga club will be involved within one or two seasons' time." For their part, the LaLiga Genuine representatives remarked that, "We're very proud to be part of this league and we're here to enjoy ourselves."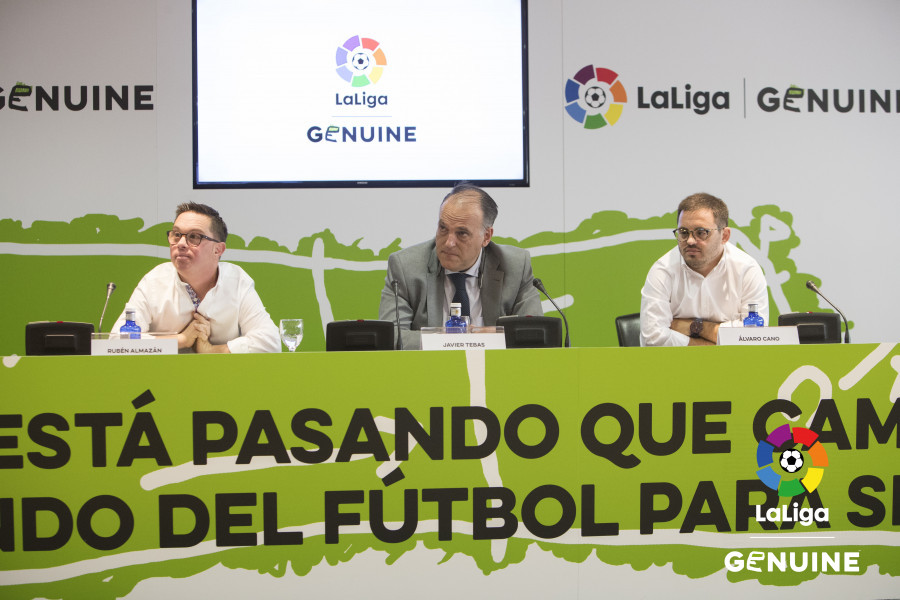 A total of 17 clubs are signed up for the 2017/18 LaLiga Genuine campaign: Athletic Club, RCD Espanyol, Atletico Madrid, RC Deportivo, Real Sociedad, Valencia CF, CA Osasuna, Villarreal CF, RC Celta, UD Las Palmas, Levante UD, CF Reus, Nastic, RCD Mallorca, Girona FC, Cordoba CF and SD Huesca.
Another person to wax lyrical about the initiative was Vicente Herrero, the director of the social outreach department at Levante, a club that has been a forerunner in this field. "We're thrilled about this project and I'm convinced it's going to set pulses racing," he noted, before explaining that the aim is to "normalise" the presence of people with intellectual disabilities on the football pitch and "treat them like the sportspeople that they are."
Meanwhile, Nastic president Josep Maria Andreu stated that, "This is the best thing that has happened in all my time as president – it outstrips any of our sporting exploits. I'm sure that it's going to be a success for LaLiga and that it'll give us all great joy." Real Sociedad chief Jokin Aperribay, for his part, also voiced his pride about the league, observing that the San Sebastian outfit have been engaging with the ID community for "many years" and adding that, "Now we want our team to be just like all the rest of the Real Sociedad family."
Marcos Senna, a LaLiga ambassador and member of Villarreal CF's institutional relations department, thanked LaLiga for the huge amount of backing it has given the clubs involved to help get the idea off the ground: "We're embracing the project really passionately. Villarreal have been working with the ID community for three years and the club is highly committed to the cause."
Four LaLiga Genuine venues have already been confirmed, with the big kick-off set to take place in Villarreal from 6 to 8 October. Games will subsequently be held in Tarragona from 19 to 21 January and in Majorca from 13 to 15 April, while the season finale will be staged in Vigo from 8 to 10 June.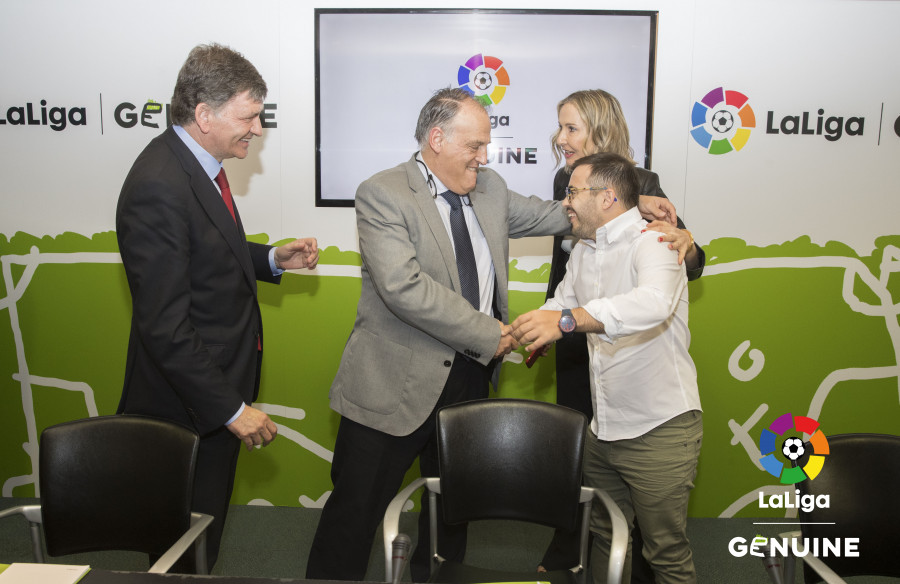 As well as awarding points for results, LaLiga Genuine will promote sportsmanship over competitiveness by handing out a certain number of fair play points to every club every matchday. On this score, the league is intended to be about sharing rather than just competing, for which reason all instances of fair play will be rewarded in the standings.
© LaLiga - 2017