Javier Tebas, president of LaLiga, was responsible for opening the Day "Present and Future of Women´s Spanish Football", organized by the Professional Football Foundation and held at the headquarters of LaLiga. A meeting that included representatives of the Spanish women's football clubs, as Albert Soler, FC Barcelona director of Professional Sports, Juan Luis Fuentes, from Athletic Club Area of Women's Football, Lola Romero, president of Atletico Madrid Féminas, Pablo Mantilla, Director of the Valencia CF Foundation and numerous experts on women's football.
The event also served to formalize the appointment of new manager of the Women's Football Area of LaLiga, Pedro Malabia. Malabia arrives at the institution from Valencia CF, where he held the position of general manager of Valencia CF Women. Javier Tebas began his speech by publicizing the new strategy of LaLiga on women's football. "LaLiga already has a strategy raised in this case.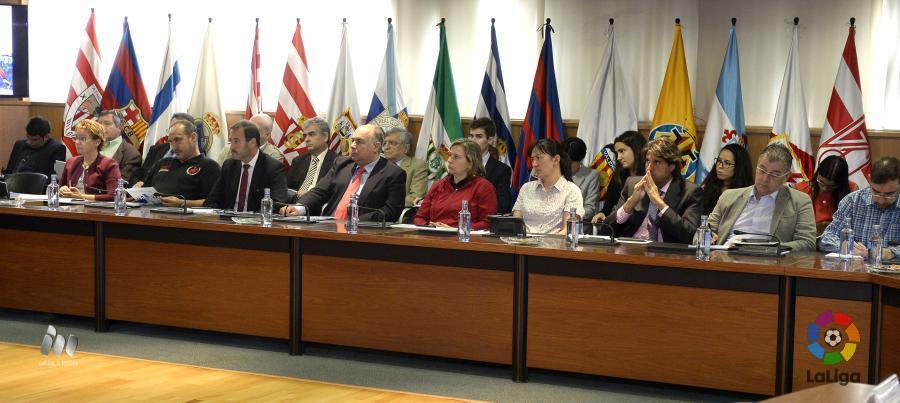 It is not intended to take away the competences of the Royal Spanish Football Federation. We want them to continue to lead this project and we are going to push. We have created a Women's Football Area in LaLiga, but clubs should be the maximum engine to develop its working structures."
In addition, Tebas announced that before October 31 a women's association of football club teams will be created. "Will receive financial support from LaLiga. We will allocate a budget so the clubs do not have to put a euro from their pocket. We will not distinguish if they are LaLiga clubs or not", said the president.
On the other hand, Javier Tebas advanced some other initiatives that will be launched from LaLiga: "We are counting on women's football clubs for LFP World Challenge international project. From the new department, an inventory of assets will be held to try to make grow interest in this sector between our sponsors, and we will keep an eye in betting on the women's game. It is a tempting competition for mafias, so we will control it, we always want to be clean."
Finally, the President of LaLiga announced that at the end of the season "we will convene another forum and we will look to see what we have done. We must know if our approach is working."
© LaLiga - 2015