On Thursday 19 November the 2nd day of the campaign "Futura Afición", a school and educational project promoted by LaLiga, through its Foundation, with the collaboration of the High Sports Council was held.
The Socio-cultural center of L'Eliana (Valencia) was the scene where about 250 children from 7 schools from the Valencian town conducted various educational activities and workshops in which respect, fair play, tolerance, teamwork and nonviolence in football were the main ingredients.
The event, conducted by journalist Pedro Morata (Cadena SER) was attended by the mayor of L'Eliana, Salvador Torrent Catala; Isabel Garcia Sanchez, provincial deputy of Youth, Sports and Equality; Mercedes Berenguer, deputy of the Department of Social Welfare; the director of the Professional Football Foundation, Olga de la Fuente; and former footballer and Liga BBVA Ambassador David Albelda.
On behalf of Levante went its president Quico Catalan, first team players Rubén García and Toño, and Levante Women players Adriana Martin and Andrea Esteban. In addition, Pablo Mantilla, director of the Valencia CF Foundation; Aderlan Santos, who plays for Valencia CF and Valencia CF Women players Claudia Zornoza and Ivana Andrés also wanted to support LaLiga.
David Albelda conveyed to the schoolchildren an awareness-raising message. "Being rivals does not mean being enemies and that's what I want to convey from my experience as player. You have always to congratulate the opponent and always express yourself with respect both on and off the field. In this sense, LaLiga has made a very strong bet to eradicate violence in football", said the Ambassador of Liga BBVA.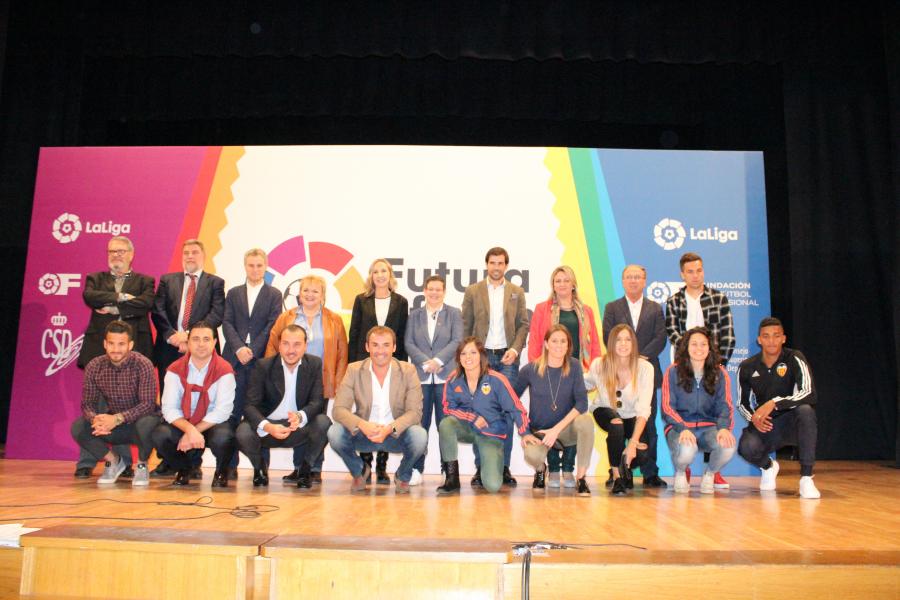 For his part, Quico Catalan highlighted the critical role of children in the sport: "Football lets you build many things. You have a great responsibility and it is very important for the whole football family. Therefore, I invite all those who have participated in this meeting to be yourselves Ambassadors of "Futura Afición" on Friday November 27 at the Ciutat de Valencia".
Pablo Mantilla emphasized equality as another key for a football with respect: "One way to address this problem is to assume that football is for boys and girls. In the Valencia Foundation we are very aware of education and training projects and we are delighted to be here to support this nice initiative".
The mayor of L'Eliana, Salvador Torrent, was responsible for closing the event with a word of thanks. "I want to thank LaLiga for having chosen L'Eliana as a host for this 2nd day of "Futura Afición". In L'Eliana will carry out many sports projects and we are pleased to collaborate with such actions", he said.
© LaLiga - 2015