Nota de Prensa
VIE 12.08.2022
Ahead of today's season kick-off, LaLiga's London office has held its third annual pre-season ceremony celebrating the promotion of new clubs to the top flight of Spanish football. Three UK-based fans, of UD Almería, Real Valladolid CF and Girona FC, were invited to King's Cross, London, to install their clubs' crests on the official display wall at LaLiga UK headquarters featuring the 2022/23 teams of LaLiga Santander and LaLiga SmartBank.
Supporters Elvira Hernando (UD Almería), David Frontela (Real Valladolid CF) and Aicard Guinovart (Girona FC) each had the privilege of incorporating their club's crests alongside the other 17 sides competing this season in LaLiga Santander.
Keegan Pierce, LaLiga UK & Ireland delegate, said: "We are delighted that this joyous occasion has become one of our annual LaLiga traditions and we are proud to host fans of Almería, Valladolid and Girona in our London offices to officially welcome their team to the top-flight of Spanish football."
Overjoyed to see UD Almería's return to the top division Elvira Hernando said: "It's an honour to be representing my team at this ceremony. My family lives and breathes Almería and can always be found watching the games in our colours. I'm really looking forward to seeing where this season takes us with my husband and nieces".
David Frontela, supporter of Real Valladolid CF since his youth, said: "I feel extremely thrilled and proud to be here today, I have been a supporter for a long time and even had friends who played for the youth team. This season is going to be an exciting one for Real Valladolid and I can't wait to see what can be achieved".
Girona FC fan Aicard Guinovart was also delighted to see his club back in LaLiga Santander: "Orgull Gironí" is my favourite Girona expression meaning 'Girona Pride', and the phrase has never been more prevalent than today. LaLiga Santander helps us put our city on the map and we want to continue promoting it as a destination for tourism through the beautiful game".
The new LaLiga Santander season begins on Friday 12th August, starting with CA Osasuna vs. Sevilla FC live on Premier Sports 1.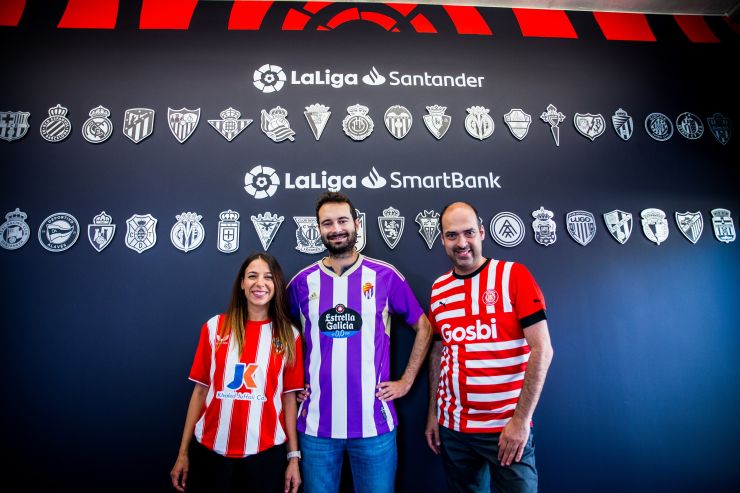 © LaLiga - 2022