LaLiga continues to work hard to improve the quality of its live-match broadcasts, with advances in audiovisual technology constituting a key component. That is why several LaLiga grounds are already kitted out with aerial cameras that are placed 21 metres above the field of play and provide unique images. Spectators are able to enjoy incredible shots of the action as well as the stadiums.
The high vantage point combined with the camera's ability to spin and travel fast means it offers a special perspective of the pitch. It can also cover a wide range of movement, given that it is controlled remotely, with three people in charge of the system. A cameraman controls the framing, zoom and focus, a technician supervises the motors driving the cables and an assistant changes the batteries and keeps an eye on the motors while the camera is in action.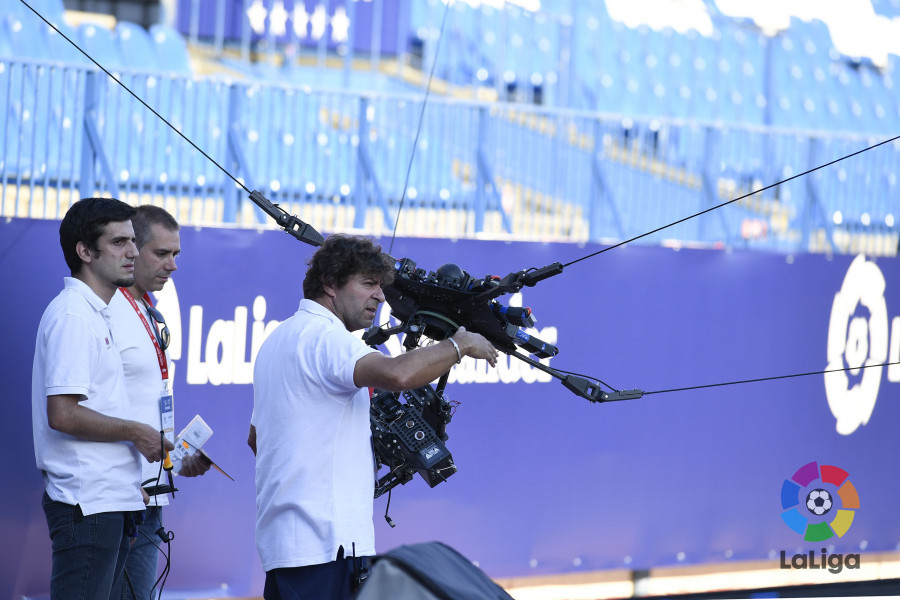 There are four LaLiga Santander clubs that already have the cameras up and running at their stadiums and in use for live broadcasts of their fixtures. Atletico Madrid were the first to install one, at the Calderon, while Real Madrid and FC Barcelona also have the system in place at the Santiago Bernabeu and Camp Nou respectively. Meanwhile, Valencia CF rolled out their very own aerial camera on Matchday 3 this season, providing viewers with an extra angle from which to enjoy their clash with Real Betis at Mestalla, which also serves as a training ground for camera pilots, technicians and assistants.
The next stadiums to welcome a permanent aerial camera will be Sevilla FC's Sanchez-Pizjuan, Athletic Club's San Mames and Villarreal CF's El Madrigal. LaLiga also has two mobile units allowing it to set aerial filming up at other stadiums, where technically and architecturally feasible.
The cameras used in these instances are micro high-definition models with a 4/3, 14x zoom wide-angle lens. They can cover an area of 155 by 44 metres, with a diagonal distance of 213m between the different pulleys. The footage captured is transferred to the mobile unit's control centre via fibre-optic cables. The cameras can reach a height of 24m, but LaLiga follows UEFA's recommendation of keeping them 21m above the pitch during play. At other times, such as before kick-off, at half-time and post-match, they are lowered to a height of between three and 10m.
© LaLiga - 2016