Nota de Prensa
LUN 07.11.2016
The LaLiga headquarters played host to the unveiling of LaLiga Global Network early on Monday afternoon. This exciting project will give young people from all over Spain the chance to work for the best league in the world. LaLiga president Javier Tebas and Rami Aboukhair, a Santander general manager and the country head for Santander Spain, took centre stage at the launch event, while representatives from Universia, from LaLiga Santander and LaLiga 1|2|3 clubs, and from universities nationwide were also in attendance to show their support for the initiative.
The project will kick off with a recruitment process that will be split into four stages. To begin with, CVs will be filtered using a tool from the company The Key Talent. After that, a first round of interviews will be held in five Spanish cities (Seville, Madrid, Santander, Barcelona and Valencia). These will be followed by in-depth interviews and then a grand final event held at the Vicente Calderon Stadium on 28 January, for the 150 people who have made it through the previous stages. Of these 150 finalists, 60 will be chosen to undergo 10 weeks of training courtesy of LaLiga professionals.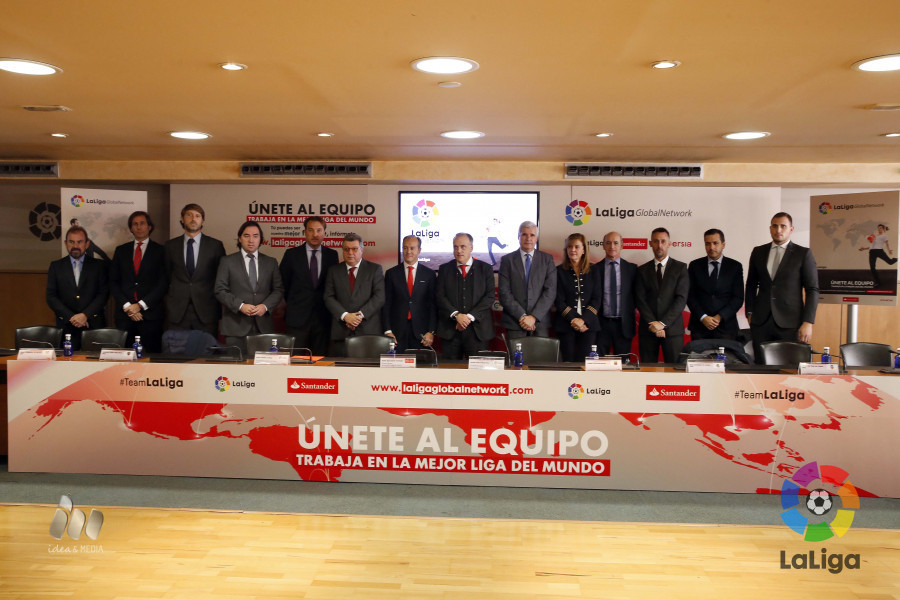 After completing this training, the successful applicants will have the opportunity to work in strategic locations, charged with boosting LaLiga's profile and brand value. During the unveiling, Tebas outlined some of the duties they will perform: "Their first task will be to liaise with broadcast rights-holders in the countries where they are posted. They will also have to be in contact with non-rights-holding broadcasters to increase LaLiga's presence with them. Their third role will be to build a close relationship with the media in order to improve Spanish football's visibility. Of course, they will also have to be in touch with local leagues and federations in the respective countries and to seek local sponsors to further LaLiga's economic growth."
Santander's Aboukhair described the project as "especially exciting for us because it allows both Santander and Universia to contribute to strengthening Spain's brand." He added, "We want to promote young talent in this country."
The LaLiga president also explained how the LaLiga Global Network was born out of the fact that "we have offices in many corners of the globe, but we want to expand to more areas and so we plan to set up delegations." "We want as many candidates as possible so we can move forward with as much talent as possible. This is an important and fundamental step forward for LaLiga and the fact that we're taking it alongside Santander is a differentiating factor. Such an initiative is a further bid to spread the influence of LaLiga all over the world," he went on.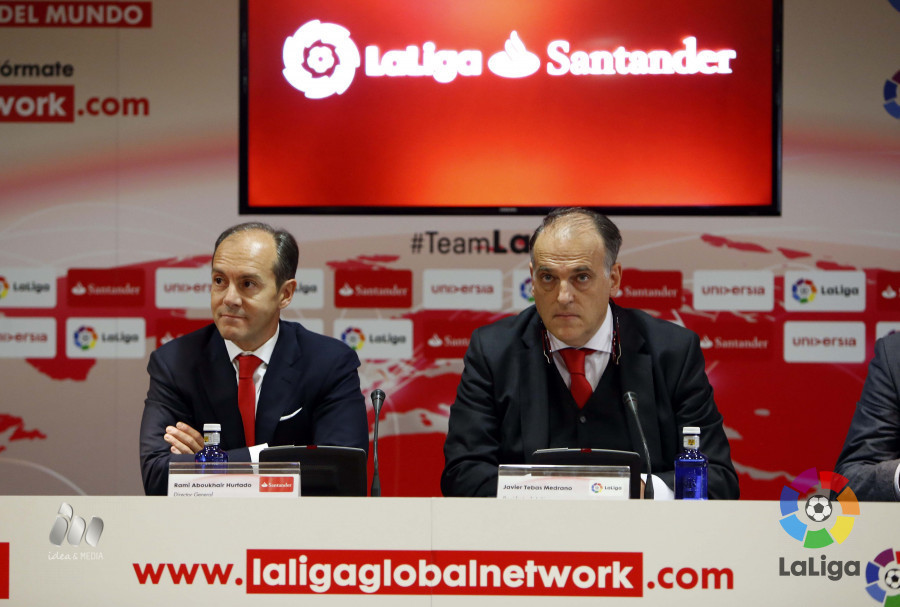 The programme will offer a unique opportunity to those selected, whose hard work in creating relationships with the media and local television broadcasters will result in new business opportunities in the countries, while they develop a comprehensive understanding of the ways in which LaLiga Santander and LaLiga 1|2|3 are consumed by fans in those areas. They will be remunerated with an annual salary roughly corresponding to €60,000 gross which will be adjusted depending on the income per capita and cost of living in the country.
The LaLiga president did not want to bring the event to a close without reaching out to young people to encourage them to sign up to the LaLiga Global Network. "We aim to bring in young talent in order to compete in the international market, which is why I implore all youngsters to take part in this exciting scheme. They will contribute to LaLiga remaining the best league in the world."
© LaLiga - 2016