Defensive line-up
Abelardo had to make changes after injuries to his two starting centre-backs and he decided to play with Mascarell, Rachid and Ndi in front of his defenders to seal the midfield. This led to a good defensive strategy at first, but it took away attacking options. Eibar goalkeeper Riesgo hardly had to intervene.
Patience and discipline
With this layout by Sporting, SD Eibar had to combine throughout most of the game against a compact side that would not give way. The Basques were patient until chances started to come. They didn't leave any spaces, which R. Sporting generally use the most to create attacking opportunities.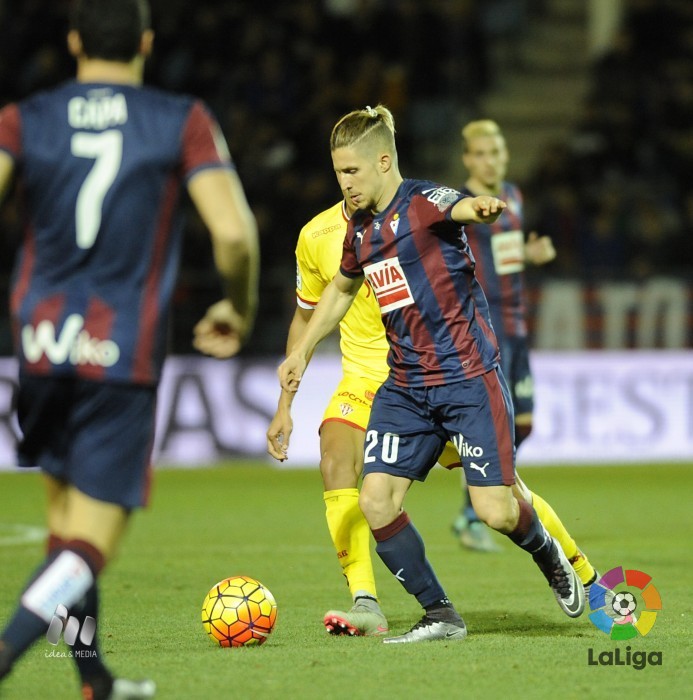 Keko
The midfielder had one of his best performances so far this season. He offered himself inside and outside to give solutions and he had recovered more balls than anyone in his team. He scored the 1-0 for his team with an excellent cutback and finish inside the box.
Borja Baston
The striker from Madrid has scored his eighth goal of the season. Despite him not having an excellent performance in the game, Baston didn't miss when Saul Berjon assisted excellently to leave him one on one against Cuellar.
Verdi
The Italian made the most of his third starting eleven of the season to show Ipurua what he is capable of: hard work, physical display and tactical positioning.
© LALIGA - 2015