The president of LaLiga, Javier Tebas, and Jose Ramon de la Morena, president of the Jose Ramon de la Morena Foundation, appeared at the Onda Cero studios in San Sebastian de los Reyes to present the 26th LaLiga Promises National Tournament, which will be held in Villarreal between 16 and 18 June, and the 3rd LaLiga Promises International Tournament, which will be held in Newark (New Jersey) from the 23rd to the 25th of the month. The event was also attended by Ramon Osorio, the general manager of Atresmedia Radio; Mario Lopez, laSexta's television director; Jose Ramon Lete, the Secretary of State for Sport; and Juan Ignacio Zoido, the home secretary.
LaLiga president Tebas expressed his excitement ahead of a new edition of the tournament which embodies Spanish football's organising body's dedication to all levels of the sport. "LaLiga boarded a moving ship. We're bound for success. We're heading out into the world again. It is not easy to organise an event like this one in the United States, but I'm sure it will be a fantastic project. Children are the very essence of football."
De la Morena, meanwhile, was thrilled that the project is continuing: "This is one of the ideas we came up with several years ago that we're most passionate about. It's about investing in hope. Iniesta, Xavi, Pique and Deulofeu have come through this tournament, along with many others. The project is now in its 26th year. We have a great youth system and thanks to LaLiga we're taking this project beyond Spain's borders."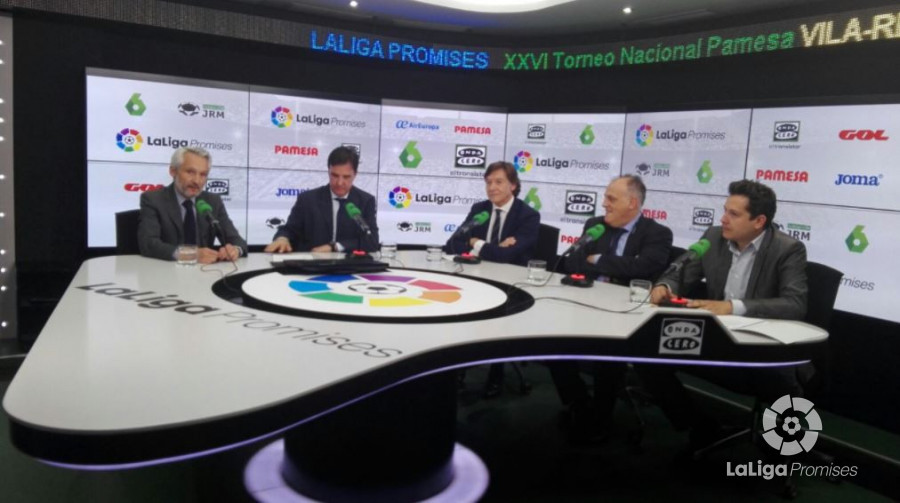 Likewise, Lete, the Secretary of State for Sport, underlined the importance of the tournament: "After LaLiga of the stars comes LaLiga of the promises. I remember Torres, Iniesta, Michu and Carvajal playing in this tournament many years ago. With LaLiga's involvement, this tournament has gained an enormous international standing. Every year more and more clubs want to be involved."
The potential future LaLiga stars will take part in the 26th edition of the LaLiga Promises National Tournament from 16 June in Villarreal. All 20 sides that competed in the 2016/17 LaLiga Santander campaign will be represented in this seven-a-side Under-12s competition. The final will be held on 17 June.
The third edition of the LaLiga Promises International Tournament is set to kick off on 23 June in Newark (New Jersey) and conclude on Sunday 24 June. This global event showcasing promising talents from the world over will be contested by LaLiga outfits Real Madrid, FC Barcelona, Atletico Madrid, Valencia CF, Sevilla FC and Villarreal CF, as well as international clubs Ironbound SC, Atletico Nacional, Inter Milan, Club America, New York City FC and SL Benfica. This is a high-quality 12-team field, so a fierce battle for the trophy is on the cards.
Zoido, the home secretary, rounded off the presentation by wishing all the participants good luck: "Football is about passion, but it's also about education and values. We can see how all of that is reflected in children. Football could become the world for these children, but the way for them to become real stars is by showing respect. I wish you all the very best of luck."
The tournament, which will have a social media presence through its official hashtag #LaLigaPromises, can be followed on LaLiga's official channels and will also be broadcast on laSexta. The channel will be dominated by both LaLiga Promises tournaments over the next two weekends, with all games in the knockout stages being broadcast live. The Champions League duo of presenter Antonio Esteva and commentator Marcos Lopez are both on board for this coverage.
All the ingredients are in place for hundreds of children to compete to write their names into LaLiga Promises history, starting on 16 June, in what is one of the most prestigious tournaments in youth football.
© LaLiga - 2017