The eighth and penultimate session of the Virtual LaLiga eSports Santander this season proved to be monumental in the competition's history. UD Las Palmas' Zidane 10 wrote his name in the history books after reclaiming the crown against xexuatm96 to become 'King of the Hill' for the third time.
The player representing the Canary Island club had previously been crowned on two occasions, like Gravesen and DanielAguilar4 - the latter representing AD Alcorcon. The chance to set a new record and move into first position was in his own hands, which made the challenge even greater.
To make this stunning achievement, Zidane 10 had to overcome an in-form xexuatm96. The first leg ended in a 3-2 victory for the Canary Islander, while the return match was a closely-fought 1-1 draw, meaning that the triple-crown went to the UD Las Palmas man.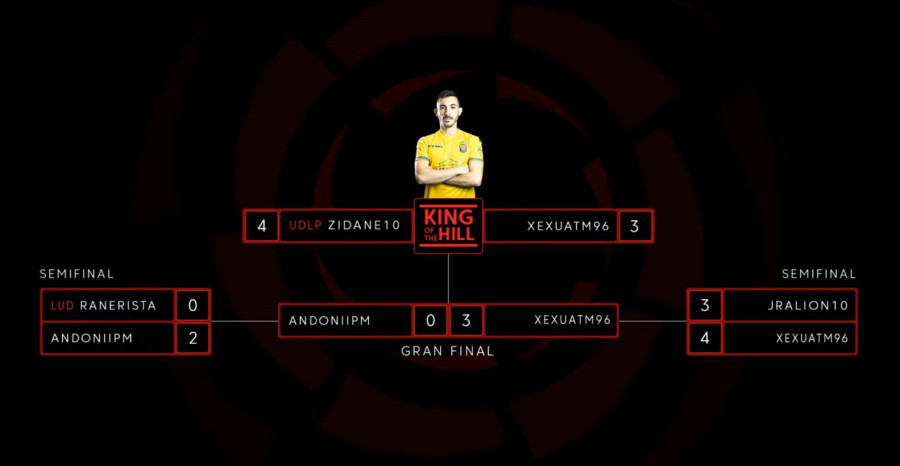 Despite his defeat in the battle for the 'King of the Hill' crown, xexuatm96 had a memorable tournament. He first had to beat JRALion10 in the semi-finals (4-3) and was then up against AndoniiPM - winner of the other semi-final against Ranerista (2-0) - for a chance to fight for the crown. Andoni produced some fine attacking play, but was on the wrong end of a 3-0 aggregate score-line, which saw Xexu progress.
The final tournament will kick off on 15 April and will end on the 25th of the same month. Once again, the best four players will travel to Barcelona to try to overthrow Zidane 10 and book their place in the final stages of the competition.
This second edition of the Virtual LaLiga eSports Santander competition, which was brought about courtesy of the collaboration between LaLiga and Electronic Arts (EA), has received the backing of Santander bank as lead sponsor. Meanwhile, LaLiga eSports partners Orange, Allianz, Visa, Hyundai, EVO2 and The Global Esports Academy are on board for the whole season.
© LaLiga - 2019