San Salvador welcomed LaLiga president Javier Tebas, along with the editors of Spanish sports newspapers AS and MARCA, Alfredo Relaño and Juan Ignacio Gallardo. They all participated in the Sports Journalism Forum held in San Salvador.

The event was also graced with the presence of Nayib Bukele, the mayor of San Salvador, and Yamil Bukele, the honorary president of IMDER (Municipal Institute of Sports and Recreation), who were in charge of inaugurating proceedings. "It is a very special day because El Salvador is the country which is most passionate about LaLiga and we're very glad to have its president, Javier Tebas, among us today," assured Nayib Bukele on behalf of the Salvadorian authorities to get the forum underway.

Javier Tebas went on to assure that "LaLiga's work in San Salvador will continue. We will be back here to continue creating schools and reach the target of building 45 training centres, and thereby continue to promote social inclusion through football." He also addressed the more than 300 children present, who received a football as part of the programme: "Not only do you have to play with this ball, but you also have to tell people at home and at school about everything that football teaches you, like teamwork and discipline."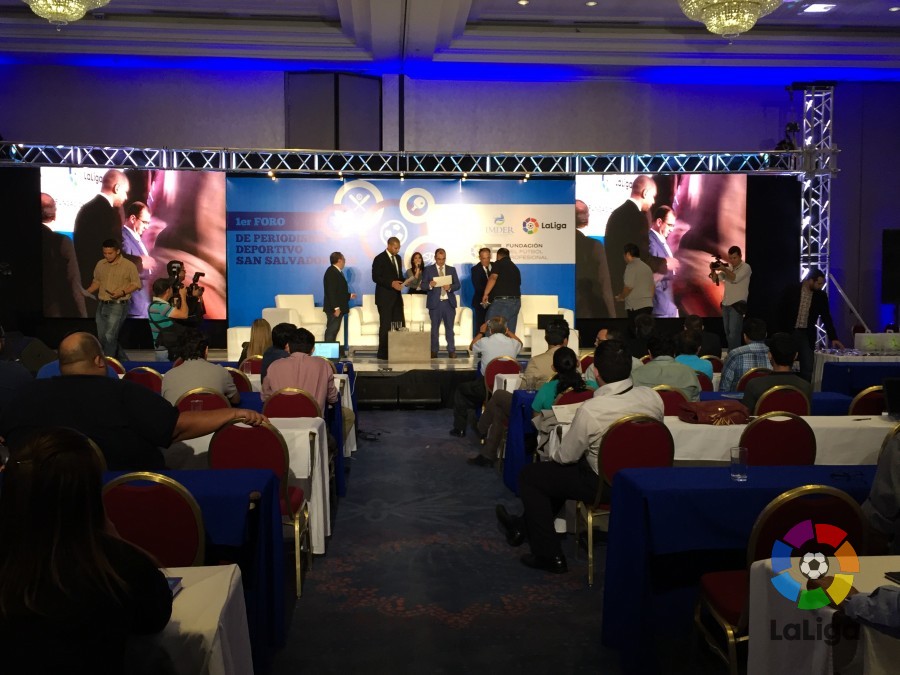 The president of LaLiga also took part in a breakfast meeting together with Juan Ignacio Gallardo and Alfredo Relaño, in which they discussed the importance of the sporting press in the development of youth football and instilling values. During the meeting, Javier Tebas noted: "LaLiga's job is to carry out these social projects and the work of sports journalists is to tell people about them, but journalists must also make a judgement as to whether the sports institutions are working towards social values."
This commitment on the part of LaLiga was also expressed through remarks by the AS and MARCA editors. "The media has to be on the side of those who help to improve society, and Javier Tebas is doing a commendable job expanding LaLiga throughout the world. Since his arrival, a lot of ground has been gained on other leagues," noted Juan Ignacio Gallardo. Alfredo Relaño, meanwhile, assured that "football is the breeding ground for the best of values. Work is ongoing to ensure this sport is a reflection of the best qualities of the human race."

During the round table discussion, there was also time to talk about the state of sports journalism. "We're dealing with a very good subject matter, because sport is the breeding ground for the best values of the human race," said Alfredo Relaño. During the question and answer session attended by almost a hundred Salvadorian journalists, Juan Ignacio Gallardo responded to one of the attendees by assuring that "global sporting idols belong to everyone, because passion is something intangible that no-one can appropriate. The fans are spread around the world and everyone, from Spain or from El Salvador, has the right to inform our fans about Spanish football."

The forum, organised by the LaLiga Foundation and IMDER, was set within the 3rd phase of the San Salvador LaLiga School, which seeks to promote the social inclusion of young Salvadorians and to instil values through football. For this reason, hundreds of boys and girls from different communities were present during the morning and were given sports equipment by LaLiga.
© LaLiga - 2016