Nota de Prensa
MAR 29.09.2015
In the morning of Tuesday, September 29, the Director of Integrity and Security of LaLiga, Alfredo Lorenzo, participated as an expert in the Sports Intergroup of the European Parliament at Brussels. The reason for his appearance was to explain the rules of integrity in the Spanish football and all the initiatives that are taking place from LaLiga to promote respect for its values in football and in the Spanish society.
The Intergroup, co-chaired by MEPs Santiago Fisas and Marc Tarabella, was attended by MEPs, representatives of the European Commission, delegations of member states and numerous professional sports organizations. Besides, LaLiga, UEFA and the International Olympic Committee also participated as experts.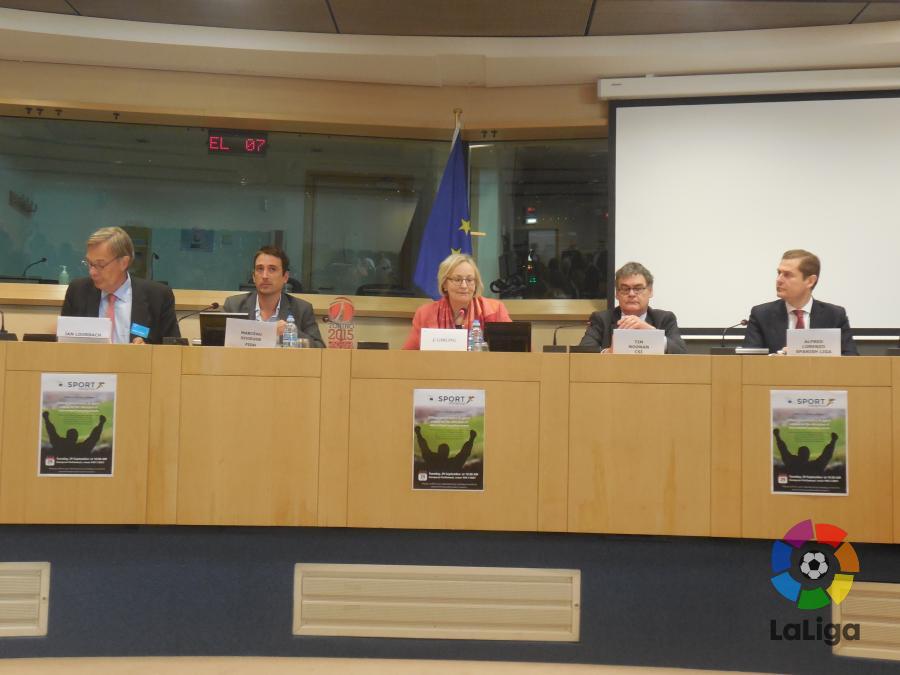 Alfredo Lorenzo explained the initiatives from LaLiga in relation to integrity and match-fixing, not only for professional football but also for amateur football. Among these initiatives are, on the one hand, the module of formation and preventing rigging in football games of LaLiga, and on the other, the task of monitoring and gathering information that LaLiga performs with an extensive network of partners, including collaboration with the police.
In its conclusions, LaLiga stressed that integrity and match-fixing are a real problem. There are now several reports and complaints filed with the police and justice authorities that are under investigation by their part. LaLiga also regretted that FIFA and UEFA will not support or react to their integrity reports. Also, the situation regarding the Royal Spanish Football Federation is very similar in Spain. LaLiga continues to issue reports on suspicious matches in competitions under the jurisdiction of the Spanish Federation, but no reply is received or notice about the measures adopted by it.
© LaLiga - 2015