From 20:45 CET this coming Sunday, 23 April, fans across the world will be able to enjoy El Clasico in all its glory courtesy of international coverage of the highest order, which continues to grow ever more impressive and set records along the way. Supporters will be able to really feast their eyes on the match and feel closer to the action than ever thanks to the state-of-the-art technology in place, which will include more than 30 customised cameras – a new high – that LaLiga's international broadcasters will be making use of at the Santiago Bernabeu. These cameras will enable the international networks to immerse their viewers in the spectacle put on by Real Madrid and FC Barcelona in unprecedented detail.
The signal for El Clasico will be produced by LaLiga's official producer, MEDIAPRO, and will be beamed to over 185 countries via more than 50 international LaLiga Santander rights-holding broadcasters. With a potential audience of 650 million people, the latest edition of the blockbuster fixture is set to become the most-watched match in the history of the Spanish top flight.
For the extensive domestic and international coverage required, LaLiga has detailed MEDIAPRO to deploy an array of state-of-the-art equipment – which will include eight mobile units, eight DSNG vans and twelve 4K cameras – as well as a team of over 400 people, who will help turn El Clasico into a veritable global event. Besides the aforementioned cameras, there will be auxiliary vehicles and a 40-metre-high crane which will transmit to and from a helicopter via radio link. All in all, some 1,500 m2 have been set aside for the TV compound.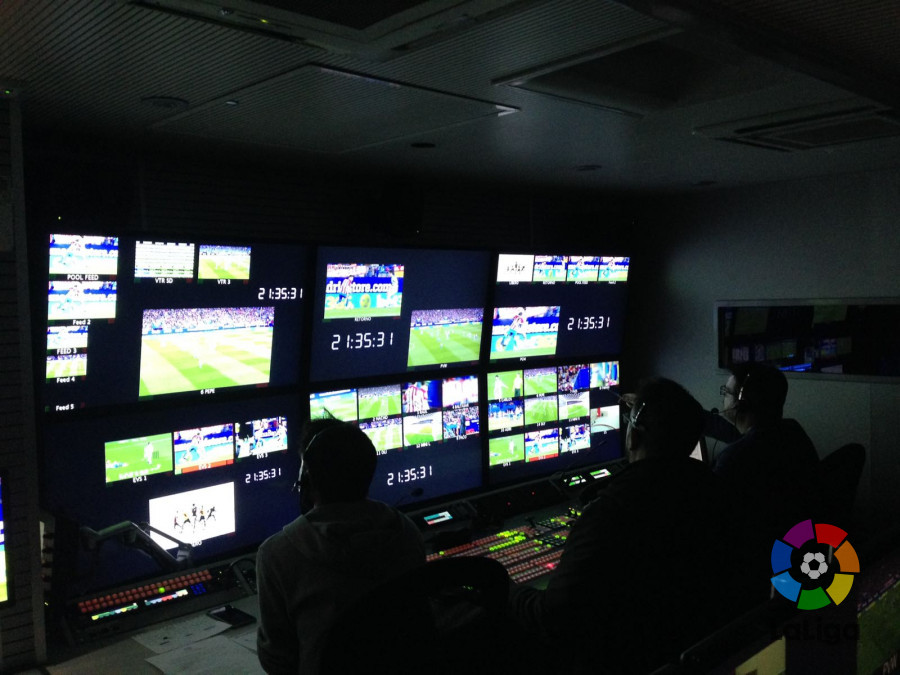 The Bernabeu will be equipped with 40 fixed cameras, including two super-slow player cameras, one each for Cristiano Ronaldo and Lionel Messi; one Spidercam for overhead shots; one high-speed tracking camera (offering hyper-slow-motion footage) behind one of the goals; two cameras featuring telephoto lenses that will be trained on Zinedine Zidane and Luis Enrique; and two offering beauty shots (interior and exterior with a crane). A helicopter will provide bird's-eye views, while two motorbikes will follow the Real Madrid and Barcelona team buses ahead of the game and relay the footage live.
A further 38 cameras will be in place with Intel's 360° technology, offering unique 3D replays and multi-perspective. This technology, which LaLiga is the first European league to roll out, allows viewers to see spectacular images of any incident or piece of play, from every possible angle.
The anticipation and buzz surrounding El Clasico continues to grow every year and over 600 accredited professionals representing 200 media outlets will be in attendance on this occasion. In addition, the action will also be played out on social media, where #ElClasico will serve as the official hashtag. The goal is to surpass the record-breaking figures (one billion impressions and 26 million engagements) recorded in connection with the previous meeting between Real Madrid and Barça this season.
Moreover, several former players and illustrious figures from the football world will be at the Bernabeu to offer commentary and punditry for international channels. To name but a few, Fabio Capello will be covering the proceedings for FOX Italia, Patrick M'Boma will be present for Canal+ Africa, Javier Saviola, Paco Buyo, Christian Karembeu and Eidur Gudjohnsen will be on duty for beIN SPORTS USA, and Omar da Fonseca will be working with beIN SPORTS France.
© LaLiga - 2017