Alfonso Perez Muñoz (Getafe, Madrid, 26 September 1972) is one of the most iconic strikers in Spanish football history. Real Madrid, Real Betis and FC Barcelona all witnessed his class, although it was at the Andalusians that he became an unquestionable legend thanks to his goals and commitment to the cause over the course of eight years wearing green and white.
The former forward, who is currently coaching RCD Mallorca B alongside Pepe Galvez, took the time out to talk to LaLiga.es about his distinguished career and what promises to be an engrossing clash between two of his old clubs, Betis and Barça, this weekend.
Question: What's your take on the upcoming clash between two of your old clubs?
Answer: They're fighting on different fronts. Barcelona are battling old foes Real Madrid for the title and can't afford to falter, home or away, while Betis are looking to climb away from mid-table, although they've got a decent cushion over the danger zone.
Q: What do you think the keys will be? What could tip the match one way or the other?
A: In Betis's case, first and foremost they've got home advantage, so they'll hope to be spurred on by the crowd. That aside, another factor that could play a role is whether they can press Barcelona high up the pitch. The teams that have done that have unsettled them, so Betis could exploit that.
Q: You moved to Seville to wear the Betis shirt in 1995, on the back of winning the title with Real Madrid. What impact did that switch have on your career?
A: Betis were really keen on signing me and I was extremely well received there. I felt like an important player, the fans always got behind me and treated me with special affection. Although I felt a sense of responsibility, I embraced it and I was at ease.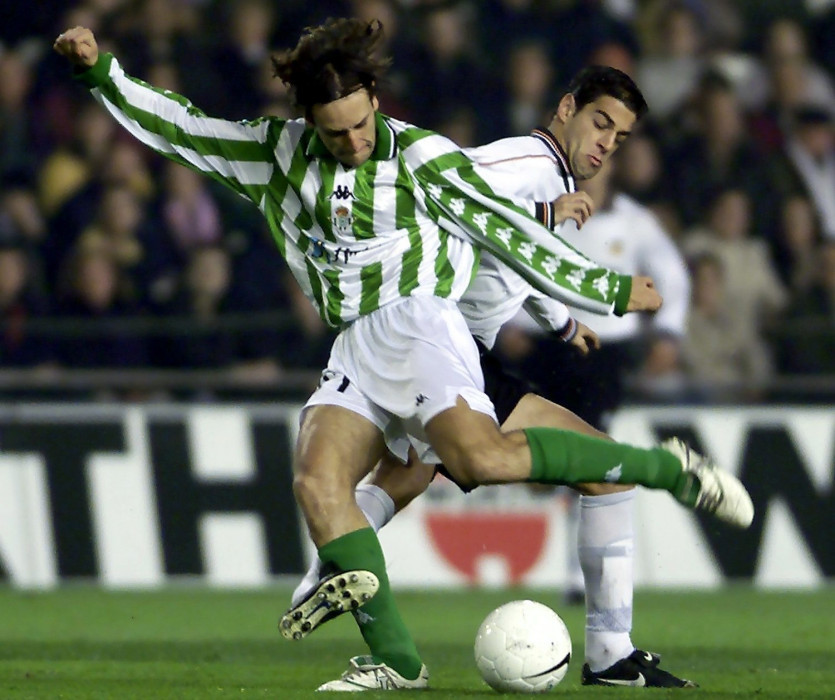 Q: In your second year at Betis, you were in the running to be the league's top scorer. You bagged 25 goals, but a certain Ronaldo [Nazario] announced himself with 34 goals.
A: Competing with someone like Ronaldo wasn't easy, I can tell you! [laughing] But back then I was happy about all the goals I scored, I was chuffed to be in contention down to the end, especially as a Spanish player, and because those goals were worth a lot of points to Betis.
Q: What was the highlight of your years there?
A: I experienced both lows and highs, like when we won the Copa del Rey, but what'll always stay with me is the love shown to me by the fans.
Q: One of those lows was in 2000, when Betis were relegated and you left for Barcelona. What was the story behind that move?
A: After relegation, it was only logical that Betis had to sell players and put together a team more suited to the second division. If we hadn't gone down, I don't think I'd have left Betis under any circumstances. The club and I mutually agreed that I would go and then the chance to join Barcelona came up.
Q: You know Luis Enrique very well, having shared a dressing room with him at Real Madrid and Barcelona, as well as with the Spanish national team. Did he always strike you as a future coach?
A: I know him inside out and he's a great guy, a good person. Back then we didn't think that far ahead. But he's won trophies, he knows the club's philosophy and he was very popular with the fans as a player. He's cemented his reputation as a coach.
Q: Do you feel nostalgic when matches like this weekend's one come around?
A: Yes, you get pangs for the atmosphere, you replay in your mind what it was like to walk out on to the pitch and be cheered by the fans… All that is stored inside you. They're crowning moments of your career and the memories always come flooding back when you're in front of the TV.
Our next lethal #LaLiga strike partnership were known for combining pace and precision!

Exhibit 2: Alfonso/Cuéllar (@RealBetis_en ) pic.twitter.com/NLgJYNuD4P

— LaLiga (@LaLigaEN) November 10, 2016
Q: Ruben Castro has surpassed your goalscoring mark with Betis in LaLiga Santander. How far can he go?
A: Scoring goals is what he does best. I hope he stays and carries on for many years to come, because that'd mean Betis are guaranteed a steady supply of goals and points. Fingers crossed he'll go on to become the club's all-time top scorer.
Q: How did your appointment at Mallorca come about?
A: I spoke to Miguel Angel Nadal and he told me they'd love to have me. I had a house in Mallorca and I wasn't driven by money, but rather by the desire to cut my teeth as a coach. I started off alongside Pepe Galvez in the Division de Honor [the highest level of youth football in Spain] and then we worked with the first team under Albert Ferrer. After Ferrer left, we spent some time as technical directors, and now Pepe and I are co-managing the B-team.
Q: What's the club's approach at youth level?
A: The methodology is based on cultivating good football from the bottom up. We instil the habits to hone technique. Mallorca have always had a strong academy and the goal is to maintain that and produce good players for the first team.
Q: As a coach, who is your biggest inspiration?
A: I played under more than 30 coaches during my career, but if I had to pick one, it'd be Luis Aragones. He knew how to bring the best out of players; he spoke our language. Luis was a fantastic motivator.
© LaLiga - 2017