Nota de Prensa
WED 09.03.2016
LaLiga, an organisation not only concerned with sport but also committed to other aspects within society, such as culture, have formed a new alliance which will work towards strengthening the presence of the Spanish language around the world. To that end, on Wednesday morning LaLiga president, Javier Tebas, and the University of Salamanca Rector, Daniel Hernandez Ruiperez, signed and presented an agreement establishing the foundations for future projects to be developed under the banner of 'Football in Spanish'.

The event, held at the LaLiga headquarters, was also attended by LaLiga's CEO of Innovation and Global Development, Ignacio Martinez Trujillo and, representing the University of Salamanca, by Vice Rector for Internationalization, Maria Angeles Serrano, and CEO of International Courses, José Miguel Sánchez Llorente.

Javier Tebas expressed his happiness and enthusiasm regarding the possibilities this agreement would open up for the two leading institutions. "At LaLiga we believe that football also forms part of culture and it is an honour to be affiliated with the University of Salamanca. It is important for football to work alongside such brands because it is one of the ways in which we can try to promote Spanish around the world. LaLiga is currently one of the most high profile elements of the 'Marca España' brand and we are fully committed to this initiative with USAL."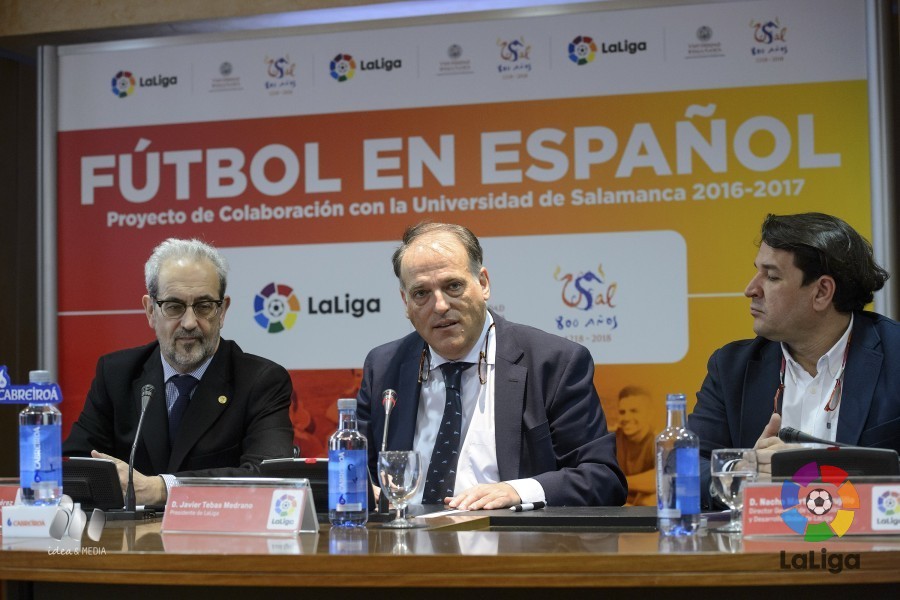 Daniel Hernandez Ruiperez then went on to confirm the opportunities this agreement with LaLiga presented for his institution. "We want to emphasise the Spanish flavour of the most important league in the world. This is an opportunity for the University of Salamanca to expand its market as our institutions overlap in many areas of opportunity and on many strategic points. This agreement will enable us to work on defining concrete projects."

Meanwhile, Ignacio Martinez Trujillo stressed that "since the president, of whose team I am a part, joined, we went from looking at the most obvious areas to focussing on less obvious ones. Football is entertainment, but it is also education. Both languages and football offer us tools for communication and exchange. It is another means of communication and this is just the beginning of many projects we will be developing in the future."

Both institutions were involved in establishing the parameters of this agreement that will develop actions around the world, from the places in which the more than five hundred million Spanish-speakers worldwide operate, to markets of common interest, such as those in the US and China.

The president also answered questions about other current areas of interest, such as the players' use of social media network 'Periscope'. "It's something we're working on at LaLiga. We are studying the possibility of establishing some form of regulation because it is an issue that transcends the individual actions of the players. We want to move to a similar system to that seen in other leagues, like the NBA."

As for the rumours circulating regarding the interest of some English teams in creating a European league, he was emphatic, "Four English teams are in favour of creating a competition but I know that the other sixteen do not support the idea. It would be a disaster in terms of audiovisual rights and even socially, as it would lead to the downfall of many national leagues."

Javier Tebas also outlined LaLiga's attitude with regard to scheduling around the possibility of Atletico Madrid going forward to compete in the Champions League quarter-finals. "We'll see what happens, in the event that they have a game on Tuesday game, we would bring the weekend match forward to Saturday. Schedules are not definitive, but not everyone can have the same break in between. It's impossible to organise for everyone to play at the same time on the same day and that's something that will never happen."
© LaLiga - 2016