Question: You were very young when you stepped up to the Malaga first-team squad. How tough was it to settle? Who helped you the most?
Answer: It was quite difficult. I remember that transition from the youth team to the first. I wasn't getting any minutes and that was hard to take as I saw myself in the squad but with no place in the team. I remained patient, waited for my moment and continued working as hard as I could to get to where I am today.
Ignacio Camacho and Roque Santa Cruz. They were amongst the players who told me what things were like and, in all honesty, their support was crucial to me. My first year wasn't easy and they took it upon themselves to help me settle in the best way possible. These things go unnoticed from the outside, but on the inside they're important. We need more players like that in the dressing rooms.
Q. You've now settled into the team and are about to sign a new deal. How close are you to signing that contract extension?
A. We're still in talks and hope to conclude them soon. I'm sure that moment will come and I couldn't be happier because I'll get to stay here for many more years.
Q. What does Malaga have, as a city and a club, that has helped you to develop so much as a player?
A. Well, ever since my arrival, everyone has been great both on and off the pitch. I've made lots of friends. They make you feel very much at home in Malaga. I feel like any other Malagueño who enjoys the city and its team. It's an honour to be at Malaga CF and surrounded by the club's fans.
Q. That left foot is reminiscent of Duda's.
A. Well, well… (he laughs). Duda is one of the best left-footed players to grace LaLiga. We'd all love to have his skill at set pieces. We all stand behind him when we practise free-kicks in training, just to see how he hits the ball, and we pick up the odd tip. It's always important to learn things from every teammate.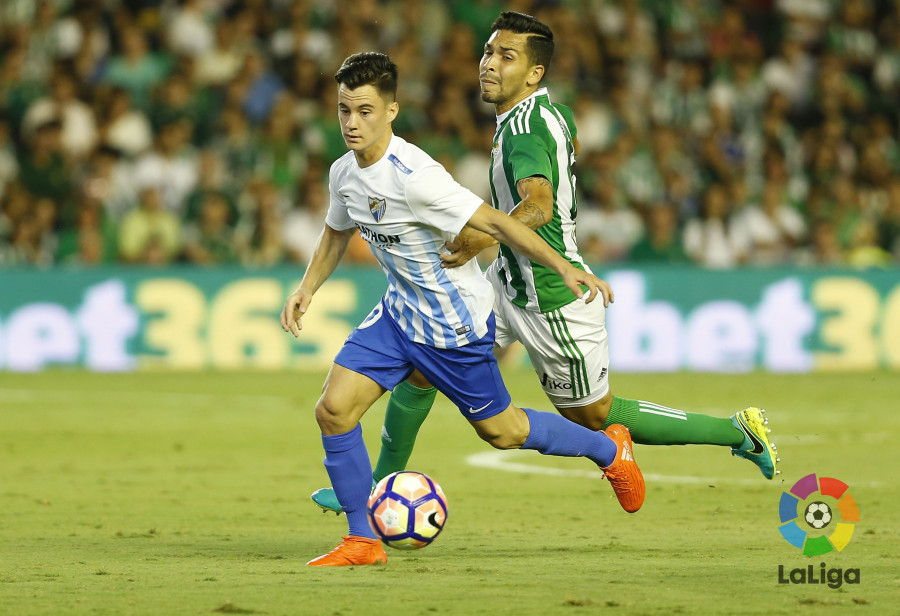 Q. Malaga appear to have found a wealth of young talent in Venezuela… you, Roberto, Mikel.
A. Yes, more Venezuelans have joined the club since Salomon Rondon's arrival. It's great for us because it's easier to get along with fellow countrymen. I'm thrilled to share the dressing room with both Roberto and Mikel; two great people and outstanding players.
Q. You have great support from fans back in Venezuela. Do you feel that support despite being so far from home?
A. Yes, of course. My friends and family in Venezuela tell me that they follow and support us. There didn't used to be much support for Malaga, but now they follow us daily and switch on the TV to watch us every weekend. It's really important for us that those people show us their support from Venezuela. We're very proud to be Venezuelans playing for Malaga.
Q. What do you do to avoid getting homesick?
A. It's hard to avoid being homesick. It's everything: friends, family, food… The festive season is upon us and we're grateful that we get to spend it with family in our home country. Roberto, Mikel and I often go out together for food and sometimes we go to a Venezuelan restaurant to enjoy some home comforts.
Q. What would you highlight most about LaLiga?
A. I've followed LaLiga since I was a kid because I think that it's the best competition in the world. It has the best players and teams in the world. I'm proud to play in LaLiga. I honestly couldn't be happier because I always dreamed of playing here.
Q. How do you spend Christmas?
A. I spend what little time we get off at this time of year in Venezuela. This time of year is very important to my family because we spend it together. Although it isn't long, I'm grateful to be able to spend it with my nearest and dearest. I couldn't ask for more.
Q. Wishes for 2017?
A. Good health and to achieve all my footballing objectives. Let's hope we have a good season and finish as high up the table as we can. Hopefully, we qualify for Europe, which is what we all dream of. My individual goal is to make it to ten goals, although it's tough to score in LaLiga.
© LaLiga - 2017