This Thursday December 17, Sevilla received the 'Futura Afición' campaign with great expectation. 'Futura Afición' (Fans of the future) is a school and educational project promoted by Laliga through its Foundation and has the support of the Higher Sports Council.

Around 260 children from the Colegio San Antonio Maria Claret took part in several educational activities and workshops in the framework of respect, fair play, tolerance, teamwork and non- violence in football in any of their manifestations.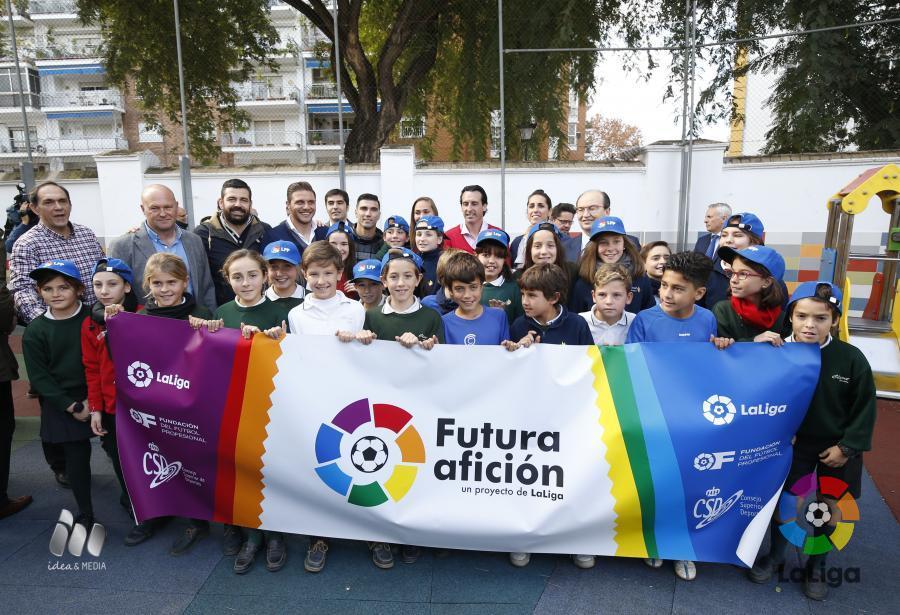 After a morning of learning and fun, the kids enjoyed the presence of various representatives of Sevilla FC and Real Betis, in an event conducted by journalist Jose Antonio Sanchez Araujo. A finale which was attended by Vice President of the Royal Andalusian Football Federation, Pedro Borras, and the manager of LaLiga´s Foundation, Olga de la Fuente.

"It's great to support your team with passion and enthusiasm, but always with respect and education," said Olga de la Fuente, who took the opportunity to announce the launch of the "Futura Afición Song Contest", which is open to all schools that so wish.

On behalf of FC Sevilla, the president, Jose Castro, the first team coach, Unai Emery, the skipper of the first team, Jose Antonio Reyes, and the player of Sevilla FC Female, Elena Escudero, attended the event. By Real Betis were present the Vice President, Angel Haro, the first team coach, Pepe Mel, first team skipper, Joaquín, and RBB Féminas player Irene Guerrero.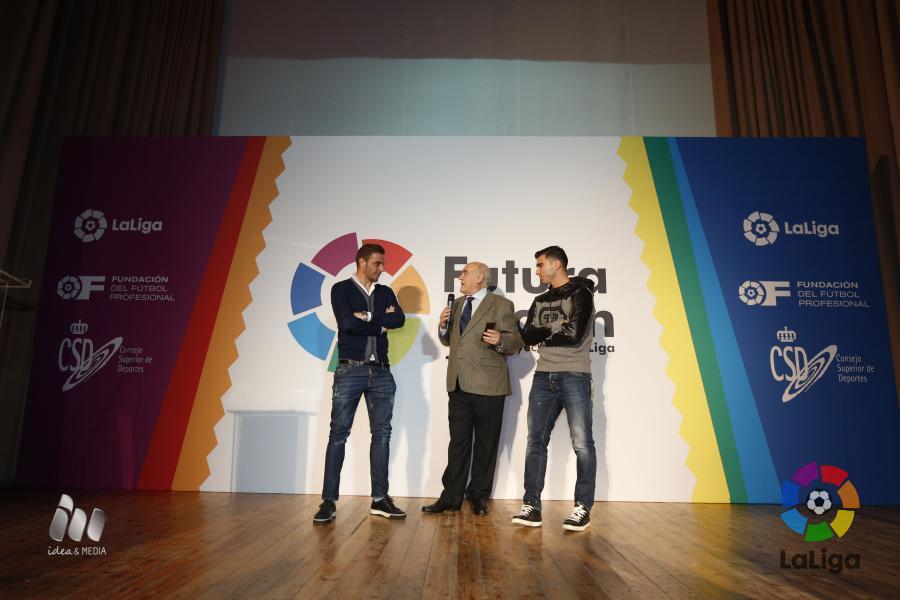 Both clubs praised the work of Laliga in the fight against violence in football. "We support this campaign to help children to enjoy Sevilla´s rivalry with respect", said Jose Castro. Meanwhile, Angel Haro said that "the important thing is fair play. I understand the need to face the opponent with all your strength, but always with empathy and respect". In addition, Pedro Borras said that progress has been made in this matter "between players, clubs and fans. We wish that Sevilla derby can be a celebration of two hours".

Coaches also gave an awareness message to children. "It's always nice to do this kind of initiatives with young people. They are the fans of the future, but also of the present", said Pepe Mel. "We have to be the first to lead by example. Saturday's game is something that challenges us, excites us and motivates us. But always within the
ompetitiveness and respect", added Unai Emery.

The Betis player Joaquin, wanted to make a call to the fans. "The important thing is that both supporters of Betis and Sevilla, especially children, who are the future of the sport, can enjoy the match with normality and joy". Reyes, meanwhile, showed a great complicity with his rival on Saturday because "above all, you have to get along with the opponents. In the field we have to fight for our teams but we get along very well and we're friends off the field ".
© LaLiga - 2015