Nota de Prensa
FRI 15.09.2017
15 September 2017.- This Friday saw LaLiga unveil a collaboration agreement with Transparency International Spain, as the head of Spanish football's organising body, Javier Tebas and the president of the Spanish branch of Transparency International, Jesus Lizcano, came together to sign the agreement on behalf of both institutions. This link-up sees LaLiga commit to implementing a transparency policy, whilst also monitoring and carrying out checks on its activities in the areas of transparency, good governance and integrity.
The signing of this partnership evidences LaLiga's clear willingness to boost the transparency levels in the running of sports organisations and institutions. Meanwhile, the body has also committed to producing and promoting clear, easily understandable material which documents the organisation's institutional and administrative structure, as well as details of its finances, agreements and contracts, amongst other items.
"The signing of this agreement with Transparency International is part of our strategy to become a league in which there is total transparency," declared Tebas. "We need to overcome the fear associated with the implementation of such measures. All institutions should submit themselves to these checks, so as to combat corruption," argued the LaLiga chief.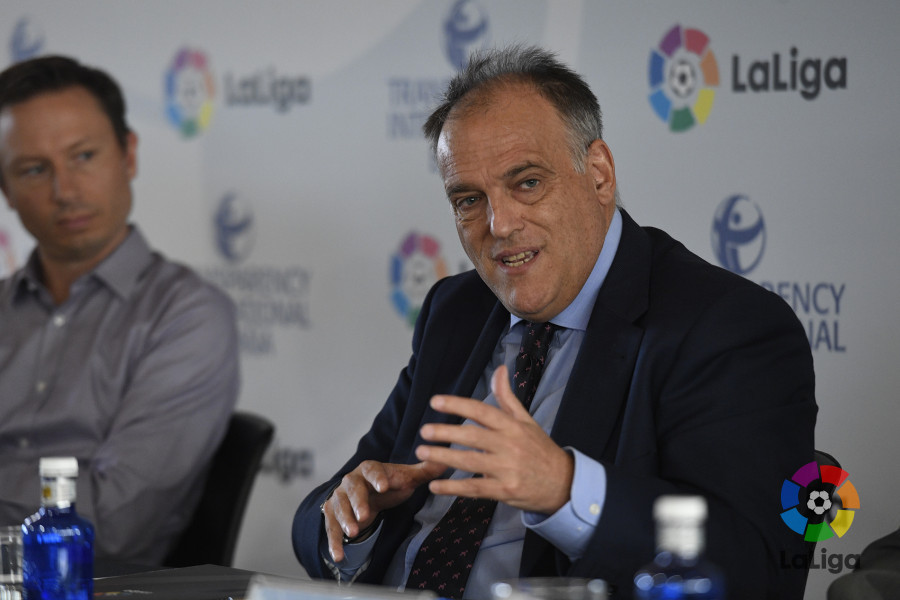 In addition, LaLiga is set to publish the links to the accountability tabs featured on the websites of its affiliated clubs and public limited sports companies (SADs), which include information relating their accounts, annual budgets, agreements, grants and other forms of financial assistance.
"LaLiga and its member clubs are working really hard to boost transparency levels. It's very important that the institution's 42 clubs make progress every single day on this front, but we've still got a lot of work ahead of us," stressed Lizcano.
The firm commitment shown within the Spanish professional game to introducing a culture of compliance, transparency and good governance was reflected by the positive results in the most recent edition of the Football Clubs Transparency Index (INFUT 2016). LaLiga and its clubs continue to work with determination to deliver not just the best competition in the world, but also the most transparent and best managed, as well as one which acts as a role model when it comes to integrity.
About LaLiga
Founded in 1984, LaLiga is a sports association comprising the 42 teams that make up the first and second divisions of professional football in Spain. LaLiga, based in Madrid, is responsible for the LaLiga Santander and LaLiga 1|2|3 leagues and the television production, which in the 2016/2017 season reached more than 2.5 billion people globally. The association also has an active foundation and is the world's only professional football league with a league for intellectually challenged footballers: LaLiga Genuine.
.
© LaLiga - 2017