Nota de Prensa
SAT 17.12.2016
LaLiga received the 2016 Spain-Japan Contribution Award this Saturday from Spain's Chamber of Commerce in Japan in recognition of its contribution to a successful relationship between Japan and Spain. The president of LaLiga, Javier Tebas, accepted the award on the organisation's behalf during an event held at the Spanish Embassy in the country: "I'm happy that LaLiga has been recognised in terms of economic activity. It's very important to take into account what we signify in that regard. This award really motivates us because it recognises our global project. We will have a presence here in May with an office, as well as through the Chamber of Commerce because, wherever we go, we always join forces with the Spanish Chamber of Commerce," assured Tebas.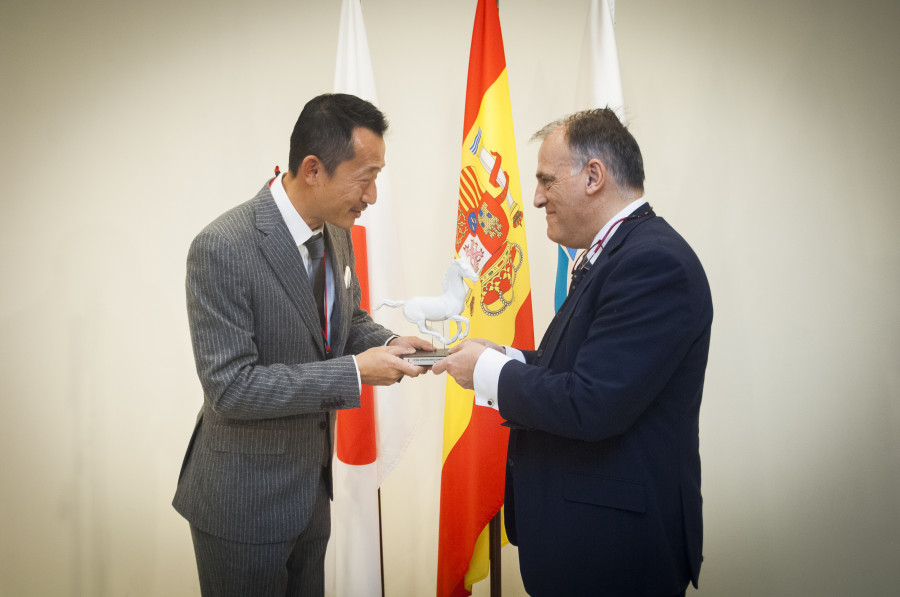 Carlos Maldonado, the charge d'affaires at the Spanish Embassy in Japan, also pointed to the work of LaLiga beyond the realm of sport: "It was the right decision to bestow this award on LaLiga, an organisation of a global nature. It has managed to transcend just sporting events and venture even further." Javier Tebas also stressed the importance of the Asian market for LaLiga, which has offices in China and India.

The Spanish Embassy in Japan was making the first ever presentation of the award, which recognises global companies, businesses and organisations which connect Spain with the rest of the world, and through which it is hoped to foster and strengthen business ties between the two countries.
© LaLiga - 2016