The first Sunday of August. Gerard Nus takes charge of his first game in the Rayo Oklahoma City dugout, away to none other than the New York Cosmos. Georgios Samaras puts OKC ahead after just four minutes, before Adam Moffat equalises on 39'. No further goals are forthcoming, with Rayo securing an encouraging 1-1 draw.
The first Saturday of November. Some 90 days on, Rayo OKC are headed back to New York to lock horns with the Cosmos again, this time in the NASL Championship semi-finals. "The team are really on a roll and we're raring to achieve something big," Nus told us ahead of this blockbuster clash. But how did his side get to this point?
"My first match was in New York against the Cosmos. Now we're coming full circle and we don't want the adventure to end here," Nus told us from Oklahoma. The tactician hailing from Reus, near Tarragona, has overseen a storming end to the campaign, with his team going unbeaten in their last 10 games and winning their last five on the spin, a purple patch that has earned the club a shot at tasting glory in its first year of existence. Nus was keen to downplay his own role in this run, however: "I like to think that when everything is going well, there's no single explanation. It's first and foremost a team effort. From Martin Presa, who was the first person to believe in this project, to Alberto Gallego, one of the key figures in the set-up, and all the way down to the masseurs, kit men and so on, everyone has played a part," he said.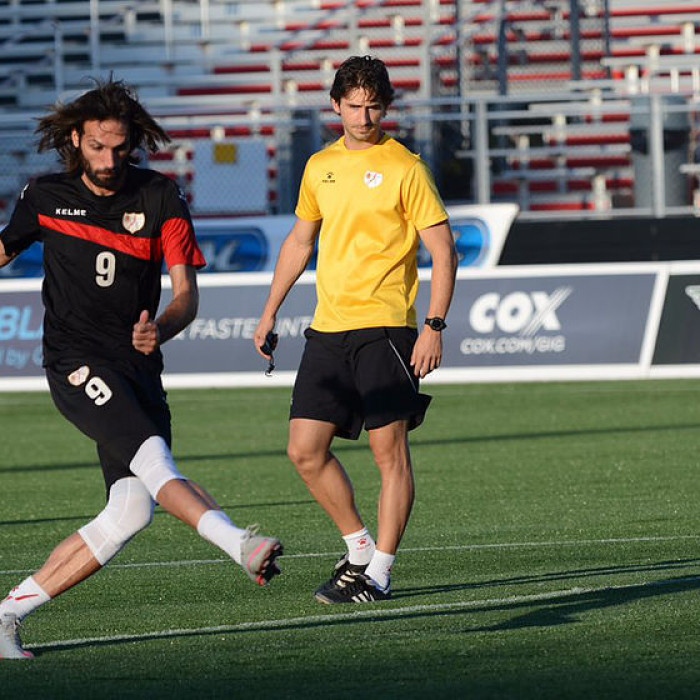 Director of sports Gallego's importance cannot be overstated, though. While Nus only crossed the pond a few months ago, Gallego was heavily involved in the Rayo OKC baby's birth and first steps, and so it is small wonder that he is thrilled with their progress. "If someone had told me 13 months ago that we'd be challenging for the title, I wouldn't have believed them," he admitted over the phone, adding that, "It's been a very intense experience. Hours and hours of work have gone into getting us here."
The expansion team's main men on the pitch include Michel, their top scorer with 14 goals, the aforementioned Samaras and Billy Forbes, their leading assist provider. "We're not afraid of anything. We're a brave, bold side who set out to win the ball back as soon as we lose it and to play good football," Nus outlined. "We've managed to instil the trademark Rayo grit and spirit in the lads," Gallego elaborated.
On Saturday evening (local time), with a place in the NASL Championship final on the line, Rayo OKC will be looking to get the better of the club where Real Madrid and Spain icon Raul Gonzalez hung up his boots. "It's great news that the New York Cosmos, my last club, and Rayo, a Spanish-owned outfit, are facing off and are in contention for the title," said LaLiga's country manager for the United States. "This is further evidence of how LaLiga is expanding and internationalising through its clubs," he went on.
However, it will be no easy task to triumph away to the Cosmos, who were crowned regular-season champions and are widely considered the top team in the division. "They have gone 20 competitive matches without losing at home and are a club with a rich history, which has been graced by the likes of Pele and Raul," said Nus. Another household name currently plying his trade for the New Yorkers is Juan Arango, who spent several years in LaLiga.
It has not all been plain sailing in their maiden year, but Rayo Oklahoma have overcome adversity admirably and now stand on the brink of history and a shot at silverware. "I'm very proud to be the coach of this team. We're going all out," gushed Nus. "Now we've got to beat the NY Cosmos and win the final. If we do that, it will make it all worth it," added Gallego, one of the architects behind Rayo OKC's success.
© LaLiga - 2016