Nota de Prensa
VIE 20.01.2017
This Friday saw the Vicente Calderon host the event unveiling the final phase of the LaLiga Global Network, a project launched to grow LaLiga's image beyond Spain's borders whilst bolstering its importance by choosing candidates to represent the organisation in strategic countries all over the world.
Javier Tebas, LaLiga president; Juan Manuel Cendoya, executive director of communications, corporate marketing and research at Banco Santander and vice-president of Santander Spain; and Susana Garcia Espinel, managing director at Universia Spain, were all in attendance at the press conference, as was Atletico Madrid president, Enrique Cerezo, who hosted the event.
The LaLiga president outlined how the project came about: "Our partners in different countries around the world, such as the international broadcasters, need a point of contact close at hand. It's not just TV broadcasters, though: other institutions like local leagues, federations and the media will benefit from having a LaLiga representative capable of personally dealing with their needs." After lauding the role played by Universia, Tebas highlighted the essential support provided by Banco Santander: "The best league in the world needed to partner up with the most international bank and Banco Santander is helping us with the expansion process currently being undertaken by LaLiga."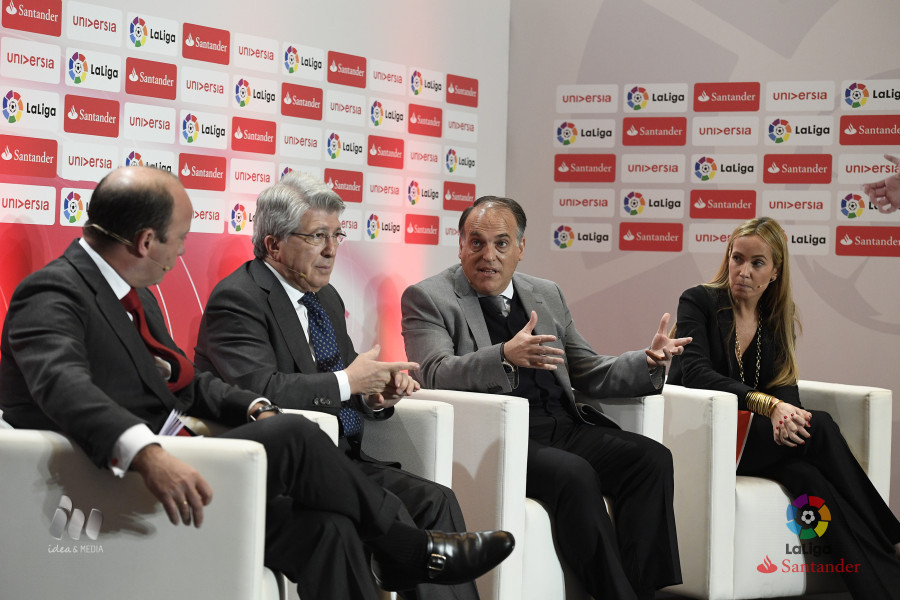 The recruitment process, organised and carried out by LaLiga in partnership with Banco Santander and Universia, kicked off on 7 November and received around 13,000 applicants. The final phase will take place on Saturday at the Vicente Calderon and will choose 60 finalists from a shortlist of 150 candidates.
"Atletico Madrid are also undergoing a process of international expansion and, as such, we support this project because these candidates are going to represent our football overseas. We're proud that our stadium was chosen as a platform to launch these youngsters' careers," said Cerezo, who went on to stress the synergies between the club and LaLiga's attempts to expand their brands overseas and gain more fans: "The efforts of both our institutions are already bearing fruit." To conclude, the Rojiblancos president expressed his thanks for all the hard work being done to establish LaLiga at the forefront of the global game.
Cendoya, executive director of communications, corporate marketing and research at Banco Santander and vice-president of Santander Spain, stated that "at Banco Santander we are thrilled to be involved in projects such as the LaLiga Global Network, which focuses on young people and education, and goes hand-in-hand with our mission of helping people and companies make progress." He also encouraged LaLiga to carry on "down this unstoppable path of internationalisation."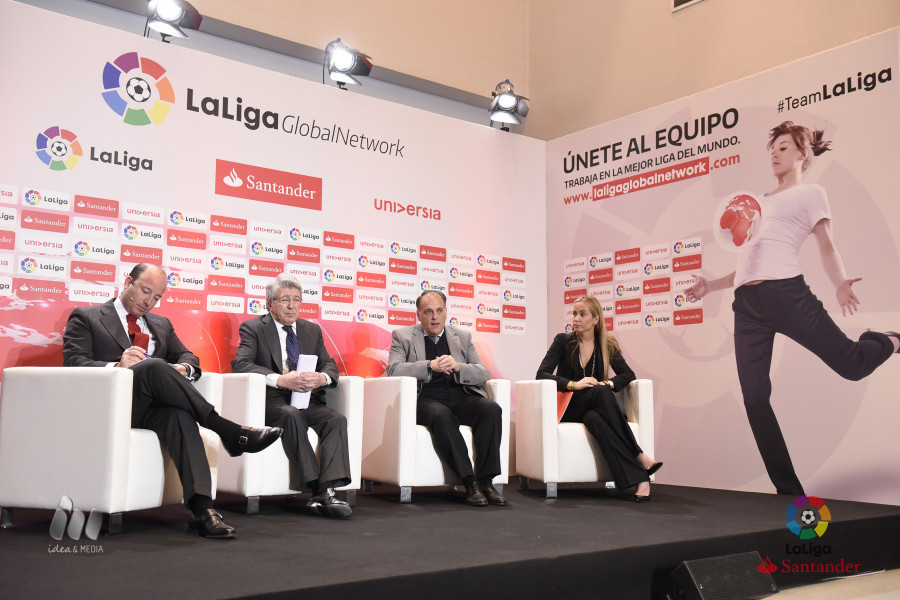 Garcia Espinel, managing director of Universia Spain, thanked LaLiga for "having faith in Universia to carry out the selection process for the project, which has allowed us to gain a better understanding of the attributes belonging to the generations that will lead a different world compared with the one we've known until now."
The 60 chosen candidates will embark on a 10-week training programme with LaLiga, before heading to their respective destinations. To conclude, Tebas explained some of the tasks that they will have to carry out: "They'll be in contact with television broadcasters, as well as local media outlets. They'll create a network of influencers and will build direct relationships with leagues and federations in each of those countries." They will also endeavour to seek out sponsors and explore possible corporate social responsibility projects which LaLiga can participate in. Another aspect of the undertaking will be collaborating in organising tours for Spanish clubs.
© LaLiga - 2017