The Iscar Cup got underway in style this Thursday 24 March. The opening day of the tournament, which is taking place for the first time as part of LaLiga Promises, kicked off with 39 fixtures packed with excitement, sportsmanship, fair play, good football and, of course, plenty of goals.
The 27 best Under-10 teams gave their faithful fans plenty to cheer about, as those in attendance enjoyed a full day of football inside the Nuevo Estadio San Miguel in Iscar (Valladolid) and the Estadio San Juan in Pedrajas de San Esteban (Valladolid). The singing, acapella chants and shouts of encouragement from fans provided the perfect soundtrack for the opening day's games.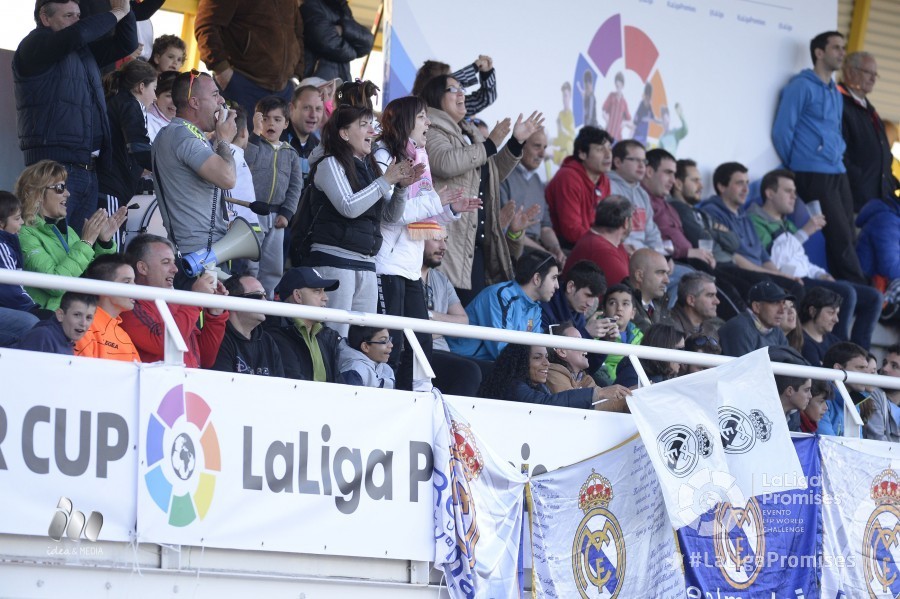 There was no lack of encouragement as the young players, some of whom will go on to become future LaLiga stars, stepped up to the plate. Every single one of them exhibited their impressive talents out on the pitch, whilst also showing immense effort, will to succeed, teamwork and respect for the opposition. The coaches also encouraged and cheered their players throughout, stressing the importance of team spirit and enjoying the game.
There were also some very emotional moments, like the minute's silence ahead of the three opening games in memory of the Brussels terror attack victims. That said, one of the most emotional moments of the day was when the FC Barcelona and Malaga CF players paid tribute to Johan Cruyff, who died this Thursday. The azulgranas and Blanquiazules wore black armbands as a sign of mourning and came together for a group hug with a number 14 shirt, the same number worn by the Dutch legend during his playing days. The tribute also included a message out on the pitch from everyone involved with the Iscar Cup: "Thanks Johan, we all learned from you".
A minute's silence in the @IscarCup in memory of Johan Cruyff. #LaLigaPromises https://t.co/C4UjR9xoeM

— LaLiga (@LaLigaEN) March 24, 2016
Real Madrid, RCD Espanyol, Sporting Lisbon, Villarreal CF, Real Betis, Selección Paulista and RC Celta all made it through to the last sixteen of the Iscar Cup as the top teams in their groups, whilst UD Las Palmas, FC Porto, Valencia CF, Sevilla FC, Levante UD, FC Barcelona and R. Sporting all finished second in their groups and also qualified. Rayo Vallecano and RC Deportivo also went through to the knockout stages as the two best third-placed teams.
The last-sixteen matches will be played from 10:00 on Friday 25 March, with the quarter-finals and semi-finals of the competition being played later the same day. The second day of the tournament will be broadcast live in Spain on LaLiga TV, Teledeporte and BeIN Sports. DirecTV (in Latin America), SuperSport (in South Africa), ONE (in Israel), WOWOW (in Japan) and Sportsman (LAOLA.tv in Germany and Austria) are five of the international broadcasters also offering live coverage of the Under-10 competition.
© LaLiga - 2016