Nota de Prensa
JUE 10.11.2016
Enrique Cerezo, the Atletico Madrid chairman, and Miguel Angel Gil Marin,theclub's CEO, acted as hosts during the visit to the new stadium site this Thursday afternoon. The representatives of the club – also accompanied by Javier Tebas, president of LaLiga, and Javier Gomez, LaLiga's corporate managing director – explained the work which is being carried out and what the future facilities and services will be like to the rest of the chairmen and directors.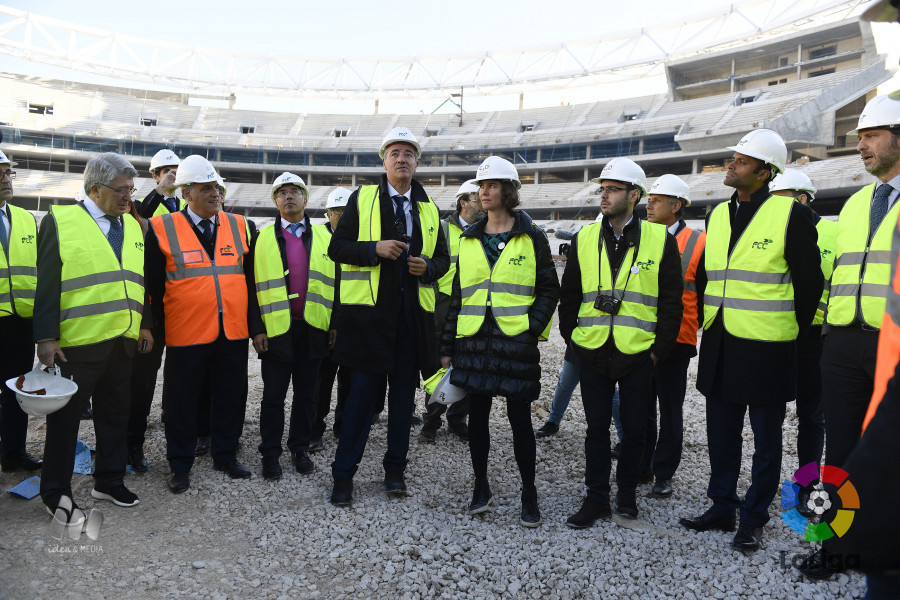 The new stadium, which will be completed in time for the 2017/18 season, will have a capacity for 68,000 spectators, 7,000 of which will be for VIPs, and virtually all of the seats will be covered. The site where it is located covers a total area of 88,000 m2, including the stadium itself and the exterior zone, which will house a number of different services. The installations will include two fan zones, one aimed at younger spectators and another for families and children. Both areas will include a variety of leisure activities and catering establishments so that Atletico Madrid fans can enjoy themselves not just during the matches, but beforehand and afterwards as well. One of the areas will also house a range of fan services, including customer services for members, the museum, the club shop and a restaurant.
The new stadium will have 1,000 indoor parking spaces, plus another 3,000 outside and 150 berths for coaches. There will also be 3 Metro stops, one of them located at the stadium exit and another two nearby. In addition, it will be serviced by several bus lines and work is being carried out on a future Renfe suburban train station.
© LaLiga - 2016