Nota de Prensa
LUN 23.01.2017
LaLiga4Sports was bestowed with the Copa Stadium prize today at the National Sport Awards. The event took place in the Royal Palace of El Pardo, led by their majesties the King and Queen of Spain.
The award recognises the person or organisation that stood out for their special contributions to the promotion and development of sport over the course of 2016. LaLiga4Sports, which was founded in October 2015 with the aim of promoting sport in Spain and giving exposure to Spanish sportsmen and women, has also been awarded prizes by the Royal Spanish Canoeing Federation and the Royal Spanish Gymnastics Federation over the last few months. In addition, Levante UD recognised LaLiga4Sports in their Journalism Awards for its support of women's football, handing them the award for 'the best news in any format for content related to the club's departments.'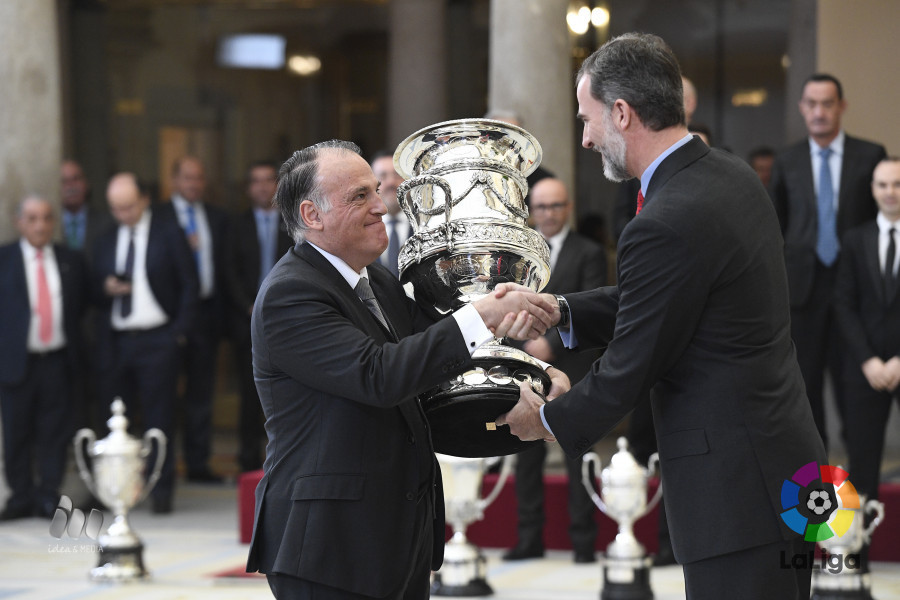 At the ceremony, LaLiga president Javier Tebas gave his thoughts on the recognition of the project: "This is the fruits of the labour that LaLiga and the clubs have been putting in. When a vote was put for the creation of LaLiga4Sports, all 42 clubs chose in favour, so this prize is for them. It's a tribute to professional football in Spain, and the role which it is playing for the promotion and development of other sports."
The National Sport Awards also acknowledged the individual efforts of great sportsmen and women. FC Barcelona star Andres Iniesta received the Queen Sofia Award, an accolade which recognises fair play and selflessness, figure skater Javier Fernandez was handed the King Felipe Award for best sporting performance, and high jumper Ruth Beitia won the Queen Letizia Award for best Spanish sportswoman. Tennis star Garbiñe Muguruza won the King Juan Carlos Award, for the best breakthrough sportsman or woman, while fellow youngster Jesus Tortosa won the Princess Leonor Award for the under-18 sportsman or woman of the year. Sevilla FC coach Jorge Sampaoli won the Ibero-American Community Trophy, a prize for the most outstanding Ibero-American sportsman or woman, and the Spanish men's national basketball team were awarded the Baron de Guell Cup, which distinguishes the best overall team in all disciplines over the calendar year.
© LaLiga - 2017