Nota de Prensa
MAR 28.03.2017
The Canillas Police Complex was the venue for the Seventh National Seminar on Security and Integrity in Professional Football, which featured contributions from members of national and local police forces, as well as representatives from the fan group Aficiones Unidas and from LaLiga. The aim of the seminar was to analyse the headway made in the work carried out jointly by LaLiga and Spain's various security corps to stamp out violence in the beautiful game. Jose Ramon Lete, the president of the High Council for Sport (CSD), and Juan Carlos Castro, the general commissioner for citizen security, joined LaLiga president Javier Tebas at the closing event.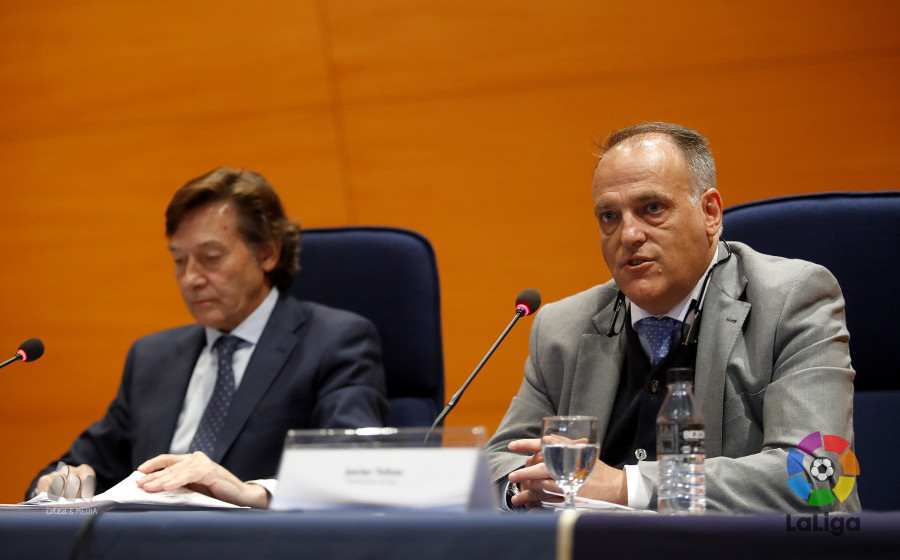 President Tebas stressed the success of the efforts to clamp down on such problems in Spanish football and highlighted LaLiga's reputation as a standard-bearer on this score: "We're being asked to go and explain our work to other leagues and governments, which reinforces that we're on the right track with what we're doing," he remarked. "We're going to remain a benchmark with regard to security because we're constantly seeking to modernise and we won't stand still. We've announced technological solutions that we're going to apply to facilitate things for and with travelling fans, which will avoid violence-related issues. The way forward is to make it easier in every sense for supporters to get to stadiums. We should be grateful to all of the different security corps and forces for their role in football security."
Alfredo Lorenzo, LaLiga's director of integrity and security, sounded an equally upbeat note, suggesting that he is hopeful of significant further progress: "There has been a real, tangible change. The number and intensity of incidents are decreasing. We've got to keep up that trend with a view to reducing the figure to zero or thereabouts. We've made big improvements and have got to continue to improve things."
Lastly, CSD chief Lete also praised LaLiga's work and echoed Lorenzo's comments about the drive to eradicate the problem. "Everyone has got to do their job while always acting according to an overarching vision of collaboration and coordination. Ultimately, the goal is to rid football of violence, which would be the greatest of achievements," he observed.
© LaLiga - 2017