Although he is only 10 years old, Michail Appany will never forget the memorable time he has just spent in Spain. His beaming smile portrays the feeling of immense happiness that comes with winning a dream trip to Barcelona in an event run by LaLiga which was linked to last season's Madrid derby between Real Madrid and Atletico.

Michail and his parents Marco Antonio and Nicolette had never previously ventured beyond South African borders, but thanks to LaLiga they have now enjoyed a taste of Spain as part of a truly unique experience. The whole Appany family fully savoured every moment of a jam-packed stay in Barcelona.

Michail and his family visited the Camp Nou Museum on Wednesday morning as well as taking in the city and sampling some of the finest elements of Spanish cuisine. The South African youngster took photos at every possible opportunity and was able to enjoy Barcelona's impressive stadium from the inside for the first time.

However, the best was yet to come for this young supporter. All kitted out in his new Barça shirt and armed with some of the gifts he'd received from LaLiga, Michail took his place inside the Camp Nou for the LaLiga Santander showdown between Luis Enrique's men and the Rojiblancos, as his dream of seeing Lionel Messi and Neymar in action was about to come true.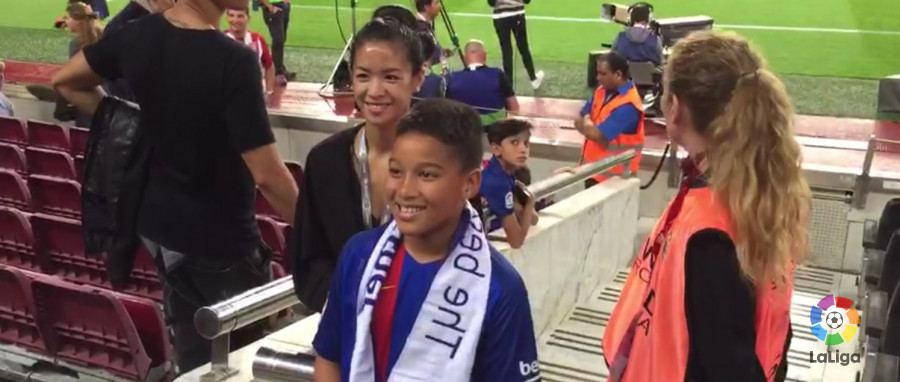 Speaking after the game, a star-struck Michail enthused, "It's been an incredible adventure. The stadium is really big, I didn't imagine it would be like this and getting to see Messi and Neymar was fantastic."

Michail's father was equally gushing in his praise of the trip, commenting that, "It was magnificent. We really couldn't have dreamt of experiencing such an adventure. If I had to give the whole stay a mark out of 10, I'd have to give it a 15! Many thanks to LaLiga for giving us the opportunity to experience this."
Michail's family and friends back in South Africa will be anxious to hear all about a Spanish adventure that will long remain in the memory.
© LaLiga - 2016