Nota de Prensa
MIÉ 21.12.2016
The selection process continues apace for the international project launched by LaLiga in collaboration with the bank Banco Santander and Universia, with the countdown very much now on ahead of the grand finale that will be staged at the Vicente Calderon Stadium on 21 January. Over the last two weeks, face-to-face interviews have been conducted in Seville, Barcelona, Santander, Valencia and Madrid, through which the Universia staff have been able to better get to know candidates who, in just a few months' time, could be representing LaLiga in strategic locations all over the world. Now, over the coming weeks, those applicants who have made the cut will undergo in-depth phone interviews that will serve as the last test to determine who goes through to the final phase.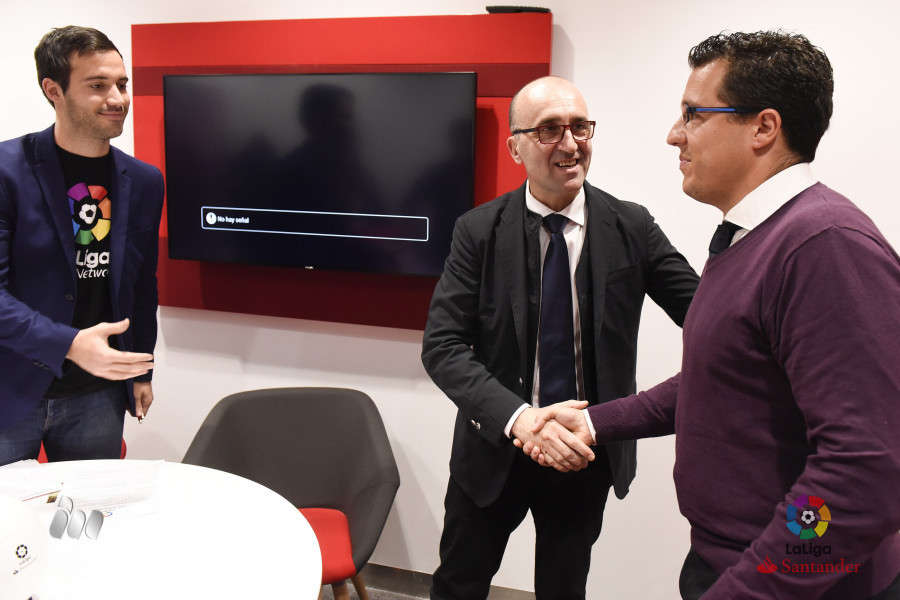 Some 600-odd candidates were invited to the in-person screening sessions designed to pinpoint the cream of the crop, which were held at Banco Santander branches across Spain. All of those applicants are united by a common denominator: a passionate desire to work for LaLiga and a real sense of relish at the prospect of being part of the LaLiga Global Network project, both of which were in evidence in spades at these selection events. Indeed, what started out as a scheme geared towards young Spanish talents has become a veritable international phenomenon. The fact that some of the applicants travelled from different corners of the planet to attend their appointment is proof of the impact that this LaLiga international project is having.
The candidates that made it through to the personal interview stage in Madrid were lucky enough to be joined by Javier Gomez, LaLiga's corporate managing director, who aside from chatting with attendees, also played an active role in the interview process that was overseen by the staff at Universia. "This project was born out of a continued need for LaLiga expansion. LaLiga has gone from 48 employees to 210 and most of those are under 35 years old. The strength that they bring to LaLiga guarantees the success of any project we put together," he explained.
The second stage of the selection process for LaLiga Global Network is underway in Barcelona! #TeamLaLiga pic.twitter.com/NEKitGUcKz

— LaLiga (@LaLigaEN) December 8, 2016
As the selection process for the LaLiga Global Network – an initiative that is set to expand LaLiga's image and importance beyond Spain's borders – nears completion, the excitement about this new step towards the future continues to build not just among the candidates, but in LaLiga's offices too.
© LaLiga - 2016