The new Nike Merlin ball brings together an advanced design, eye-catching colours and, for the first time, All Conditions Control (ACC) technology, which ensures optimal touch and control in all weather conditions. It is made of high-quality materials, which make it worthy of being the official ball used in LaLiga Santander as well as in the other big European leagues.

The Nike Merlin ball for the 2018/19 LaLiga Santander campaign has a striking design, which integrates several colours and will make a significant difference on the pitch. The base colour is white, with a stunning hexagonal structure in purple which is complemented by fine pink and yellow lines. The secondary and tertiary colours are designed to catch players' eyes and help them identify spin, speed and trajectory as fast as possible.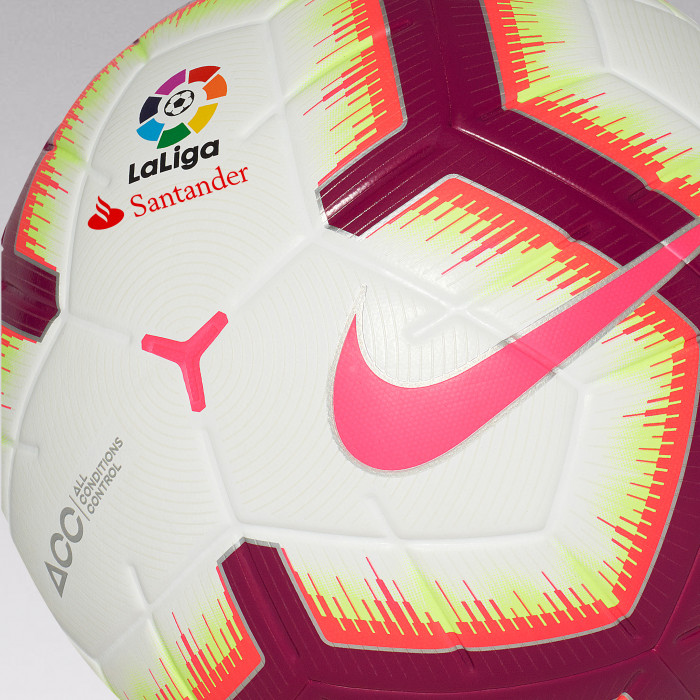 ACC technology has been integrated into the Nike Merlin football to provide optimal touch and control in all weather and pitch conditions. This attribute will allow players not to lose control of the ball in adverse conditions and avoid chaotic situations.

The striking surface on the Nike Merlin football is much larger because of the reduction in the traditional 12-panel construction down to just four. This change also lowered the number of seams by 40%, removed hard spots, opened up the ball and generated a more pronounced sweet spot.

Other developments include the fact that the ball features a latex bladder (instead of traditional rubber) wrapped in proprietary materials to promote more consistent air pressure and keep its shape. Debossed grooves and 3D inks (these are engineered to dry at levels and locations that vary by millimetres) rise as they dry during the printing process, further boosting the aerodynamics and feel of the ball.

The new Nike Merlin football for the 2018/19 LaLiga Santander season is available from today on Nike.com, in shops and from official distributors.




© LaLiga - 2018